Newsletters are emailed out to parents and carers every week on a Friday. If you do not already receive you can read it here or have it emailed by contacting the office on: office@hollypark.barnetmail.net
To see the full colour version of this week's newsletter including photographs please scroll further down this page. You will also find there a full list of previous newsletters.
This plain version of the newsletter will translate into different community languages using the Google translate button at the bottom of this page.
Junior Sports Day 2018
Sports days are a tradition at Holly Park. The weather was not exactly hot and sunny however it was dry and great fun was had by all with a whole range of races from skipping to tyre rolling to dressing up etc. The children competed in their teams and many of our Holly Park learning skills were in evidence. There was lots of mutual respect shown. The younger children came out to support the older children. At the end we all enjoyed the parent race! Thank you to Mr Bourne and Mr Carini for their organisation. Well done to all the houses for their participation and congratulations to Hydra who were the winners this year.
Summer Holiday Challenge
We will be sending home a summer holiday challenge. The challenge is a list of 10 tasks to complete. The tasks are very varied. To complete the challenge, parents need to sign against each challenge to show it has been done. Children need to bring the challenge sheet back to school in September. We are also suggesting that children take photos of the challenges and make a booklet or small scrap book of their summer challenge 2018. A few examples from the challenge are: Visit a London attraction, read a book by an author that you haven't read before, visit a library, make a model out of recyclable materials etc. Good luck and have fun!
The Wizard Of Oz – Year 6 Show
The Year 6 end of year show has been a triumph and the children should be very proud of themselves. The children acted, sang and danced very well. Both casts of children did a splendid job. The scenery, costumes and props were great as usual and huge thanks go to Year 6 teachers and the Teaching Assistant team for all their work and commitment to produce such a great end of year event. What talented people we have at Holly Park! There are lots of photos on the Y6 page – take a look.
Summer Choir Concert
We were treated to a lovely evening of singing from children in Barnabas choirs Y3-5. We had a wonderful variety of songs – slow lilting songs to jazzy songs. Songs in other languages and songs that linked with football!! We had modern songs, traditional songs, and songs with body percussion or British Sign language. We had solos, songs sung in parts, in harmonies and in rounds. It was a magical evening. Thank you to Mr Hogan.
Barnet Libraries Summer Reading Challenge
The Reading Agency and Barnet libraries are excited to be working with Beano in their 80th anniversary year to bring you Mischief Makers, Summer Reading Challenge 2018. Children will explore a map of Beanotown to find the mysterious buried treasure and become ultimate mischief makers! Dennis, Gnasher and friends will help them solve clues and collect stickers, having lots of fun and adventures along the way! Read 6 books – collect stickers and prizes for each one! There will be lots of fun events in your local library. The school with the highest percentage of children finishing the Summer Reading Challenge will win a special prize for their school! Sign up from Saturday 14th July!
Poppy's Birthday
Last week, we celebrated Poppy's fourth birthday. She had her own special doggy birthday cake in assembly and we all sang happy birthday to her. She had birthday cards and birthday treats and was generally very spoilt with lots of treats and affection.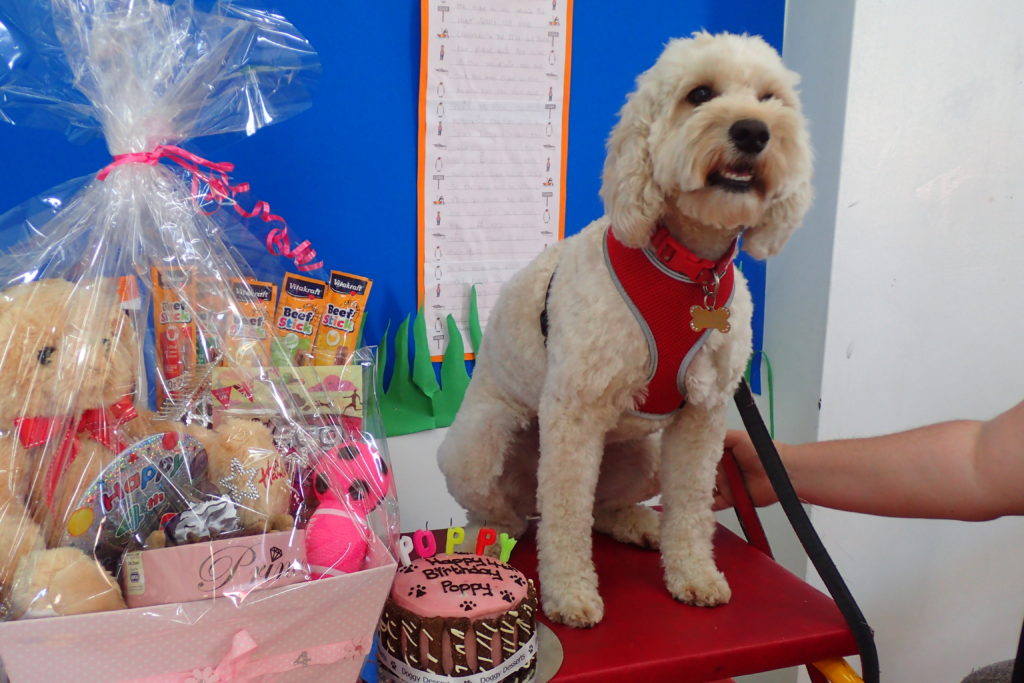 Chair of Governors
At our full governing body meeting this week, our current chair Andrew Ballam Davies has stepped down from the governing body after 18 years of service. Andrew has been a governor for longer than both of his children attended the school put together! Andrew began as a parent governor and then became a community governor. He has been chair of governors for the last 4 years and was vice chair for several years before that. Myself and all of the governors have been very grateful for Andrew's calmness, sound advice, constant support and measured approach. I am delighted to tell you that our new Acting Chair of Governors is Tim Graveney who is dad of Zach in Year 6. I look forward to working with Tim in order to continue leading the strategic direction of the school.
Infant Sports Day 2018
The sun shone and Infant Sports day was a lovely event. There was a huge turn out from parents who cheered the children along! The children enjoyed events such as dressing up race, egg and spoon, skipping etc. The highlight as ever was the parent skipping race at the end! Thank you to Miss Yianakki for organising it.
Mrs Constantinou
Mrs Constantinou will be retiring this July after 28 years of service at Holly Park. Mrs Constantiniou and I started here on the same day in 1990. Mrs Constantinou came as a part time teacher doing cover, did various SEN qualifications and eventually became the school SENCO. In recent years she has gone back to working part time and has now decided the time is right to spend more time with her family.
Mr Stewkesbury
Mr Stewkesbury will also be leaving us in July. Mr Stewkesbury has been at the school for 5 years and was one of the first members of staff that I appointed when I became Headteacher. Mr Stewkesbury is leaving us to travel and work abroad with his partner. He has secured a two year teaching contract in Nairobi. I think a few members of staff will be travelling out to visit!
Change in Dinner Money Prices
There has not been an increase in Barnet school meal prices for over 4 years and last year the council decided to subsidise school meals so that meal prices did not need to increase in line with inflation. This year the council is no longer in a position to provide this subsidy, so the price increase reflects inflationary pressures. The increase is due partly to food inflation but is mainly due to the increases to the London Living Wage. It has, therefore, been agreed to increase school meal prices from September. Nursery lunches will be £2.30 per meal. The price of a Key Stage 2 school lunch will increase to £2.34 from September 2018.
Holly Park Online Community Noticeboard
 We now have a Community Noticeboard on our school website under the 'Contact' heading. This is for parents and friends of the school to advertise their businesses/events.  For example if you make birthday cakes, do nails, are a decorator etc. The following rules will apply:  Items will be listed alphabetically to avoid any favouritism eg C for cake making, P for Piano lessons.  There is a disclaimer at the top of the page saying that inclusion on the page does not mean the service is endorsed by the school in any way.  The cost to advertise will be £10 per term paid to Mrs Hassan. We no longer distribute leaflets for companies advertising holiday clubs, tennis lessons etc as this is not very eco friendly. However the company can email the school office a leaflet and for £10 can advertise on this page. The page is ready and operational now.
Here is this week's newsletter:Newsletter 13.7.18
In the first week of a new year Mrs Pelham wrote a letter to families instead of a newsletter: Introduction letter – September 2017