PTA Christmas Fair
The PTA Christmas Fair will be on Thursday 14th December in the hall. The PTA are currently looking for volunteers to make sure it can go ahead. They are also collecting "jolly jam jars" (jars full with small toys and treats for the children to win) the week starting 4th Dec, and also Christmas chocolate donations (with no nuts obviously) on the week starting 11th December. Santa will be at the fair for everybody who would like to visit him. The PTA have also received a very generous donation a donation of £400 from Austin Chambers as sponsorship money for the fair – this is amazing.
Marble The Cat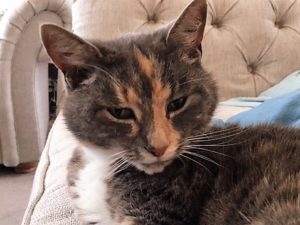 I am very sad to tell you that Mr Reid's cat Marble sadly passed away this week. Marble was not only Mr Reid's cat – but due to her calm, friendly, confident manner, she was also known as the Holly Park cat and could often be seen sitting in the playground or even inside the buildings. Many of the Holly Park children and families loved to give Marble a stroke when they saw her. Marble was one of several cats that Mr Reid and his wife have – but the only one who was seen around the school. She was 18 years old. Marble used to follow Mr Reid around the school every night (like his shadow) while he locked the school up. In her time, Marble appeared on school tea towels and on the school website. Marble will be missed. We haven't officially told the children as some of them will not be aware of her – however, If you know that your child was fond of Marble then please talk to them about Marble at home.
PTA KS2 Festive Quz
The PTA annual KS2 quiz will take place again this year for Years 3,4,5 and 6 in the final week of term. The quiz is £1 to enter and should be paid for on the school money system. The Classes will do the quiz in their classrooms in the final week – arranged at a suitable time by the class teachers. The children will sit in their house groups and will compete against the other houses in their classroom. The quiz is always a very enjoyable event. Thanks in advance to Mrs Theuma for organising all of the questions. This will be a lovely event in the final week.
Key Areas of Information About Holly Park
Does the school have high expectations for my child?
The school has high expectations for all pupils in many aspects of school life. The school has a presentation policy which outlines expectations for how work in books should be set out and presented in all lessons at each stage. Several aspects of this are shared with children so that they understand what is expected e.g no scribbling or doodling, DUM TUM etc.
The school has high expectations of attendance for all pupils – as set out in our attendance policy. Attendance at Holly Park is better than the national attendance figure. The school has high expectations of uniform – as outlined in our uniform policy.
We constantly check to ensure that children are wearing the correct uniform and we send out uniform reminders regularly. The school has high expectations of behaviour and the school is constantly praised by visitors or when the children are on trips for the good behaviour of the children.
There is a clear behaviour policy. There are lots of rewards to encourage and promote good behaviour. There are clear sanctions too. Behaviour expectations are constantly shared with children and there are frequent reminders in class and in assemblies. This year we are running parent sessions to make sure that our strategies are shared with parents. The school has high academic expectations for children.
We assess all of our children termly and this is tracked on an internal tracking system. We look every term at which children might need support in a particular area of the curriculum either from the teacher in class or by a teaching assistant. This may be long term or for a short period.
We set age appropriate homework (including reading, phonics, spellings and multiplication tables) so that parents can support children at home. From Y1 upwards we use Google Classroom and in KS2 we also use CGP books.
We have curriculum pages on our website and termly curriculum newsletters for parents so that parents can see what their children are learning in school and support as necessary.
We use the School Led Tutoring Fund and the Pupil Recovery Premium to support Pupil Premium children in maths, reading and writing.
We ensure that SEND pupils are supported through interventions, IEPs and EHCP targets. National data in 2023 shows that at all phases of the school that Holly Park pupils attain in line with national attainment and in certain areas better than national results. Progress from KS1 to KS2 is also in line with national progress.
Feedback from secondary schools and past parents and pupils' evidences that Holly Park pupils settle well into their new secondary schools because they are well prepared and that they go on to achieve well at secondary school – often being children who win the end of year school prizes. Evidence suggests that Holly park children are ready and prepared for the next phase of learning.
Christmas Lunch – Wednesday 13th December
If your child normally has a packed lunch but would like a Christmas lunch then please call the school office just so we have an idea of numbers.
Jazzy Jumper Day
There will be a PTA Jazzy jumper day of the last day of term Thursday 21st December, for a contribution of a £1 donation on school money.
Attendance
Whole school attendance for last week was 93% Well done to Y5 Maple Class with the best attendance at 97%.
Dates
Tuesday 12th December Nursery drop in for new children 4-5pm

Wednesday 13th December Christmas Lunch

Thursday 14th December PTA Christmas Fair

Friday 15th December Nativity Dress Rehearsal

Friday 15th December Y5 and Y6 parties

Monday 18th December Y3 Nativity at 2.30pm

Tuesday 19th December EYFS parties

Tuesday 19th December Y3 Nativity at 2.30pm

Wednesday 20th December Year 1 and 2 parties

Wednesday 20th December Y3 and Y4 parties

Thursday 21st December Term ends at 1.30pm
This week's newsletter: Newsletter 1.12 23