Welcome to Cedar and Beech classes
The teachers in Year 6 are Miss Biggs and Mr Stewkesbury
FEBRUARY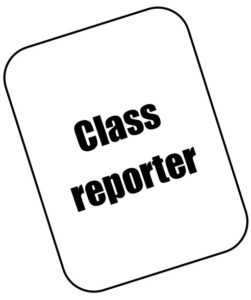 Our reporter this week was Aliya. She said: "This week in maths we have been doing percentages! We worked together on tricky percentage word problems and how to show a percentage using cubes. In English we have been writing our letters of complaint and discussing the rules of a formal letter. This week in PE we have been doing basketball with Mr Loftus (our outdoor PE coach), we have been learning how to balance a ball, switching hands and how to shoot it into a hoop properly. Well that's a rap, another week bundles up with numerous amounts of hard work!"
Our Y6 reporters this week were Tarlan and Priya. They said: "So far we have learnt two different types of throwing such as bounce pass and chest pass. In history we have learnt the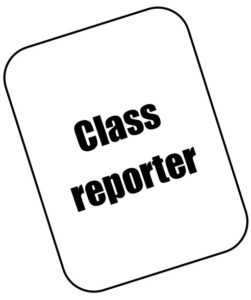 Ancient Maya beliefs; we have also done a Maya civilisation timeline. For English we carried on with The Viewer and finished the last chapter. In maths, as usual, we split up. Some people go to Mr Stewkesbury's class, they worked on converting decimals, percentages and fractions. In Miss Biggs class they have been working on solving problems with fractions and they worked on division. We have also done some coding with algorithm drawings."
JANUARY
This week's class reporters were Zne, Erza and Lumini.
Zne said: "In outdoor PE we have been carrying on with basketball and have started working on passing. In English we've been finishing off our pictures books inspired by 'The Viewer' by Shaun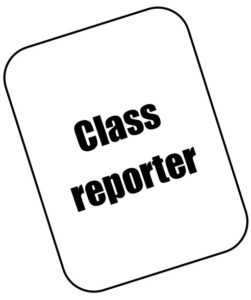 Tan. In maths, we made posters about multiplying and dividing with decimal numbers and have started looking at ordering sets of data when they contain fractions, decimals and percentages. In computing we made our own Flappy Bird games, focusing on how event blocks in a program work. In science, we've been looking at Charles Darwin's theory of evolution by natural selection. We carried out an activity, where ten children pretended to be 'Spoon Birds' and had to gather enough food to survive long enough to reproduce and pass on their genes to the next generation. Finally, in history, we made timelines of the ancient Maya from 11,000BC to the 1500s."
Erza and Lumini said: "We have been writing sentences with subordinate clauses and subordinating conjunctions. In all the sentences we included main clauses. Recently we have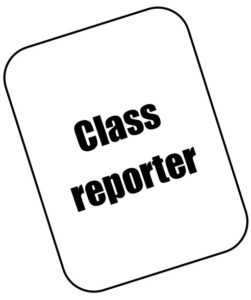 been reading a book called The Viewer. We've been rewriting it in our own versions and we have been drawing pictures for our story. We mainly have been writing and editing about an object of our choice. In maths we have been multiplying improper fractions and turning them into mixed numbers. In Cedar class they have been learning about decimals. This week we have been starting basketball lessons with Non Stop Action."
Our first Y6 class reporter was Mei.
Mei said: "In maths we have been working on numbers with up to two decimal places – multiplying and dividing. We have also done some problem solving. In outdoor PE we have been doing basketball with a Non Stop Action coach, focusing on dribbling. In indoor PE we have been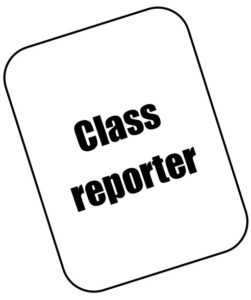 making routines with our learning partner with two types of travelling and two poses. In English we have been working on our Viewer project and added a few more pages to our picture books. We have now finished reading the original version. In IT we have done some more programming and talked about algorithms and using loops to simplify our algorithm."
Year 6 have been learning about classification and adaptation in Science. They had a brilliant afternoon dissecting owl pellets!
In September we enjoyed a fantastic 'Romeo and Juliet​' workshop  delivered by the Young Shakespeare Company.
In September we had a super Enabling Enterprise project. The children had a great time designing their own gaming apps.
It has been an industrious and fulfilling term in Year 6; the children have settled brilliantly into life as the oldest year group at Holly Park and are enjoying the academic challenges that come with it. In November, we all had an excellent day at Neasden Temple. Our visit started by watching the daily Arti ceremony and looking around the Mandir. The children were fascinated by the incredible architecture and also enjoyed seeing at the sacred images of the Deities.
After looking around the 'Understanding Hinduism' museum visit, we were treated to a highly informative explanation of how the Temple was built – as well as a question-and-answer session with a member of the Temple staff. It was a super trip and the children represented Holly Park wonderfully.
Year 6 have done lots of work around the book 'Skellig' by David Almond. The project has led to lots of writing and also art work.
As part of their research into Life and Death, they have worked collaboratively to produce posters with key facts about the major religions.
Y6 have also studied about the Ancient Mayans. They have looked at the countries in central America and produced leaflets about them. They had a great curriculum workshop and produced Ancient Mayan masks and headdresses.
ARCHIVE – see what Y6 got up to last year
Y6 put on a very professional end of year show with Bugsy Malone.
You can see many more pictures here.
As part of our World Book Day celebrations, Year 6 designed their own imaginative creatures.  There were magnificent wings, flailing tentacles and razor-sharp teeth!  The children then used their designs to model their creatures using clay.  In the afternoon they made notes about their animal's features and special abilities and then used these ideas to create some fantastic poems.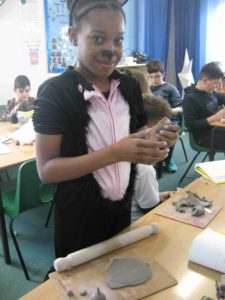 Our Y6 Digital Leaders have been going round the school to find out what the children are doing. Here are their reports:
In Miss Mountford's and Mr French's maths group, they  have been doing Coordinates and in Mr Stewkesbury's maths group have been doing Algebra and number sequences. In English, Year 6 have been writing about a book called The Boy in the Striped Pyjamas. On Thursday, Year 6 took part in an Enabling Enterprise challenge day to make greetings cards. In PE they have been doing activities in a circuit.
In English, Y6 they have been reading 'The Boy in the Striped Pyjamas.'  They then wrote a letter to Karl from Bruno. They also have been drawing the view from Bruno's window. In maths, some children have been doing ratio and proportion, and others are doing how to find the area of triangles and parallelograms. Most of y6 made an animal out of clay, there were loads of animals. We also wrote poems or short stories about our animals.
This week Y6 have been working on their viewer project. This is an example of the last page they have been working of 'The Viewer.' They have also been working on creating their objects that they used for homework, it is linked to the viewer project.
Year 6 had a fantastic time at their Ancient Maya curriculum day.  During the workshop they discovered more about various aspects of Mayan life including religious beliefs, basic diet, calendars, education and decorative arts.   They enjoyed dancing, singing and dressing up in traditional Mayan clothing and even got to have a go at the Mayan ballgame (unlike the Mayans, we decided not to sacrifice the loser after the game!)​
Here is some of the work we have been doing this term.
Year 6 have been learning about Gender Equality. Ethan told us that they were discussing in groups ideas for how to spread gender equality across the world. Katie told us that they watched a video showing the story of Malala and how she tried to do something about gender equality in her own country.
Year 6 also thought about famous people who had made a difference to gender equality – such as Rosa Parkes. They looked at famous female leaders in the world today. They decided that gender equality in our country has got much better over the last 100 years with more female doctors, headteachers, local MPs and even a female prime minister!
Mr Stewkesbury found that the proportion of women to men in top jobs in Barnet is 33:67