Holly Park Houses
At Holly Park all of our children from year 1 to year 6 belong to one of our five houses. Siblings belong to the same house.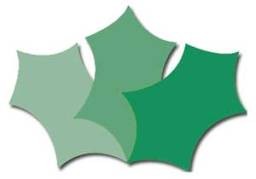 The 'House system' was set up at Holly Park over 10 years ago. Originally, the children and teachers put forward ideas about possible House names. Ideas such as planets, birds and famous people were put forward. The outcome of a vote resulted in the names of mythical beasts being chosen to represent the five houses.
Our five houses are :
Griffin –

yellow

Hydra –

blue

Phoenix –

red

Unicorn – black
Dragon –

green
Each house has two captains from year six.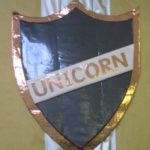 Children at the school collect house points across each week for good effort, good manners, polite behaviour etc. These house points are added up each week. The winning house is presented with a cup for the week. Results are reported in the weekly newsletter.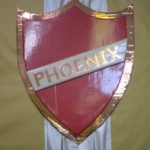 We hold house challenges each term when the children from across the school work together in different age groupings within their houses to do various challenges to earn points for their house.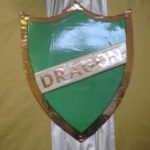 Past house challenges have included – choral verse, tower building, pancake races, relay races, poetry, a bake off and a potato Olympics.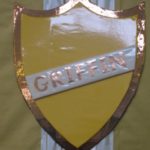 At the junior sports day, the children race in house groups to earn points for their house.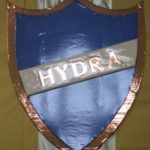 House points are collected across the year and are added up to give a total .The house with the most points for the year is presented with the Margaret Maxwell Shield.
Each term Holly Park has a House Challenge
Holly Park House Challenge –  Pupil Voice
Following on from the Climate Change march we asked the children to think about issues that they feel strongly about. The house challenge was to decide as a group on an issue that they feel strongly about and to prepare a short presentation about it to the rest of the class. The children worked in their House groups, y1 and 2 together, Y3&4 and then Y5&6. The presentations included placards, banners, posters, and speeches.
Autumn Term House Challenge
The theme of the challenge this term was connected to Rights Respecting Schools. The children looked at the rights and discussed them. They worked in cross year group teams to prepare a presentation persuading others that the article they had chosen was the most important one. They prepared their presentations and then shared them with everyone. The children were awarded a maximum of 15 points to each group: 5 points for team work, 5 points for the presentations, 5 points for their persuasive arguments.
Spring Term House Challenge
In keeping with World Book Day, our house challenge was to design a front cover for an age appropriate book. The children worked together to gain points for creativity and teamwork. Year 1 and 2 worked together, Year 3&4, Year 5&6 The winning house with 244 points was Hydra!
Flipping fantastic Spring House Challenge
Everyone enjoyed our Spring Term House Challenge. In House groups, the children had to run around a cone and back tossing pancakes in a frying pan as they went. Not as easy as it looks!
Anti Bullying Week and Our Autumn Term House Challenge
Our Autumn Term House Challenge was linked with Anti Bullying. The children worked in mixed age groups in their houses. So we had Years 1&2 Dragons together, Years 3&4 Dragons together, years 5&6 Dragons together etc. Each team had to work together to write an anti bullying poem. The teachers read out some examples of published poems and then the children brainstormed ideas and in small groups began to write their own. At the end of the session, they read out their poems to the group.  The teachers scored their whole group out of 20 marks for their teamwork, commitment, creativity and ability to communicate the main message of anti bullying. The children really enjoyed the activity. 
Summer Term House Challenge
It is nearly time for the Euros which are being held in France this year. Teams from all over Europe will be competing. Several of the staff will be supporting different teams – Mr Carini – Italy, Mr Hogan – Ireland, Mrs Mehtar – France and Mrs Thomas – England. In the lead up to the Euros our house challenge involved dribbling a football around a cone as many times as possible before the bell went. Congratulations to Hydra who scored the most points and runs in the time!
Autumn House Challenge
Autumn Term House Challenge had a feel of the Rugby World Cup!! Children ran in their houses with a rugby ball to score a 'Try' and then run and pass to the next team member.
The children began on the first bell and continued running and touching down with the rugby ball until the bell rang again after about 15 minutes. The children were paired up in year groups: Year 2 worked with year 5, Year 6 with Year 1 and Year 3 with Year 4. Great fun was had by all.
Congratulations to Hydra who won.
Summer Term House Challenge
The week before half term we had our Summer Term House Challenge. The children took part in skipping races in their houses to earn points for their house.
We paired up our younger and our older children together. We had Year 1 and Year 6 together, Year 3 and year 4 together and Year 2 and Year 5 together.  The sun shone and the children had lots of fun working together, supporting each other and cheering each other on in a spirit of community and friendship whilst at the same time enjoying healthy competition. The results are below.
Hydra    500    points
Dragon    400    points
Unicorn    300    points
Phoenix    300    points
Griffin    200    points
Well done Hydra
Spring Term House Challenge – Choral Verse
On the last day of half term we held our Spring Term House Challenge. This challenge was a choral verse competition where the children had to learn a poem in a group and perform it in front of an audience and a panel of judges.
Years 1,3 and 5 were mixed together and years 2,4 and 6 were mixed together. Mrs Bawcombe  organised the event. The groups worked together for a time and gained points for their team work and cooperation.
We all enjoyed watching the performances in the afternoon. There were judges who awarded performance points based on volume, clarity of expression, pace, sound effects, actions and other criteria.
Here are the houses working together.
Summer Term House Challenge
For our summer term house challenge we took on the theme of the World Cup.
The children were in mixed teams  – Y5 and 6 together, Y3 &4 together and Y1&2 together. In their house teams they had to dribble the football around a human bollard and back to their team. They had to keep going and get as many runs as they could before the bell rang.
Spring Term House Challenge
On 14th February we had our Spring Term House Challenge. Linked with Valentine's Day, the theme was about the love of learning and the love of Holly Park School.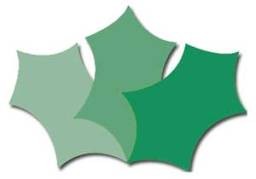 The challenge was based on the Learning Skills of team work and creativity but also involved communicating and listening. After having seen some good examples of other murals, the mixed age group teams were challenged to design a new wall mural for the infant playground to replace the old one which is looking rather tired.
There were so many lovely ideas on many of the pieces of work that we have decided to create a mural made up of elements from many pieces of the work produced. The mural will be created on the infant wall during the Summer when the wall is dry.
Results were :
First    Phoenix    500 points
Second    Griffin    400 points
Third    Unicorn    300 points
Fourth    Hydra    200 points
Fifth    Dragon    100 points
Our Autumn term House Challenge was making scarecrows for our allotment.
The children worked in groups to make a scarecrow for their House. Y1 & Y2 worked together, Y3 & Y4 worked together and Y5 & Y6 worked together.
Altogether we made 15 scarecrows for the allotment – that should keep the birds away!
Here are the children making their scarecrows with old uniform stuffed with newspapers.
And here are the finished scarecrows!
Our Summer term House Challenge was about tennis
The house challenge was held on June 21. The challenge was to bounce a tennis ball on a tennis racquet round a human bollard and return to where they started for which each house gained a point.
The event was divided into Infants, Lower Juniors  and Upper Juniors. The children then all came together in the hall where Mr Maxwell calculated the overall scores.
All the children had lots of fun and showed great skill and commitment in this House challenge.