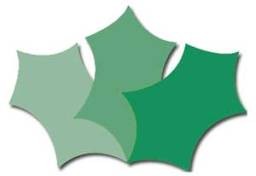 The period of moving on from year 6 is known as secondary transfer and is a very important stage in a child's school life.
Both junior and secondary schools take a lot of time and care over this transition period.
Here is some important information about moving on and open days at local schools for last year:
Here are some things to consider when your child is in year 6.
How do I know which school is right for my child?
Who can help me make that decision?
Talk to your child find out what they want and consider how they will travel to school
Visit the schools, go to the open evenings, talk to the teachers and the pupils.
When are the open evenings?
Usually from June to October. (see above leaflet for dates)

Read the school prospectus – it will have detailed information about: how the school is run, which subjects are taught, the admissions criteria.
The prospectus should be available at the open evenings and on the school website
Talk to the Choice Adviser – Angela Buckee who can be contacted on 020 8359 7694 or by email: choice.advice@barnet.gov.uk
Read the secondary education booklet published by your home local authority.
Barnet's booklet is at www.barnet.gov.uk/school-admissions
Talk to the Admissions Team – the team can offer you advice and answer your questions. They can be contacted on 020 8359 7651 or by email: school.admissions@barnet.gov.uk
If you live outside Barnet, you will find the contact details for your admissions team in Barnet's secondary education booklet.
Look at exam results and Ofsted reports. The latest Ofsted reports are available from the Ofsted website www.ofsted.gov.uk
Achievement and attainment tables are available at www.education.gov.uk/performancetables
Look carefully at the admission criteria for each school. These may include selection tests, faith criteria, siblings, distance from the school.
When do I apply? The application process begins on 1 September.
Where do I apply? Online at www.eadmissions.org.uk
Can I get a paper application form? If you don't have access to the internet you can get a paper form from the Admissions Team
How many schools can I apply for? You can apply for up to six schools which you rank in your order of preference
Can I apply to schools outside Barnet? Yes, you must include all your chosen schools, whether inside or outside the borough where you live.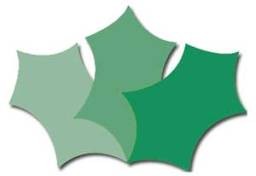 Do I need to fill in any other forms? All voluntary aided schools and some foundation schools, free schools & academies will ask you to complete a Supplementary Information Form (SIF). The SIF will ask for additional information, for example faith schools will ask about church attendance and require a priest's reference, selective schools will ask about any medical condition that needs to be taken into account at the test and they may also require a photograph, Jewish schools will also ask you to complete a a Certificate of Religious Practice (CRP), which must be signed by a Rabbi. SIFs and CRPs must be returned to the individual schools
Barnet now has 27 secondary schools including:
What else do I need to provide? Proof of address – your permanent address must be used on the application form.
Schools must give parents the test results before they apply for a school place – applications to sit the tests should be made directly to the individual school.
When will the tests be held? Most schools will hold tests early in the autumn term some schools will hold the tests in the summer term while your child is still in Year 5.
When is the closing date? At the end of October. The online system will close at 12 midnight on 31 October. Paper forms should be returned to the Admissions Team by Friday 25 October
Parents of children awaiting results of selection tests can return paper forms to the local authority by 31 October if unable to meet other deadlines
Co-ordinated admissions
The transfer process is co-ordinated by all 33 London boroughs.
How will places be allocated? If the school is over-subscribed, the admissions criteria will be applied to decide who can be offered a place – each application is considered as if it is equally preferred – your ranking order is not passed to the individual schools
Will I be offered more than one school place? If your child can be offered more than one school, you will be offered the highest rank possible, the lower preferences will be withdrawn and offered to other children. No child will be offered more than one school
When will I hear? 
National Offer Day is in early March
Online applicants can log in and see the result in the evening
Letters will be posted to all applicants by first class post
Accepting offers: 
Places to be accepted by 17 March
Online applicants can accept or reject their offer online
Other applicants need to return the reply slip
What happens if I don't get any of my preference schools?
Your child will be allocated a place at the nearest school with a vacancy. You will remain on the waiting lists
You can appeal for a place – every parent has the right of appeal which are heard by an independent panel.
You will need to convince the panel that your child's needs are more important than the school's need to limit the admission number
Appeals are not usually successful unless there are exceptional grounds
These are the secondary schools Holly Park pupils went to in 2022:
The Compton School    26
Totteridge Academy     2
St Andrew the Apostle     10
Queen Elizabeth's Girls' School    3
Mill Hill High School     1
The Wren Academy   1
Southgate    1
Friern Barnet School    5
Ashmole Academy    3
Dame Alice Owen   2
Winchmore School   1
Nonsuch High School for Girls   1
Hendon School    1
Duke's Aldridge   1
These are the secondary schools pupils went to in September 2021:
The Compton School   17
Totteridge Academy  1
St Andrew the Apostle 4
Queen Elizabeth's Girls' School   4
Latymer   2
Greig City Academy   1
The Ark Pioneer Academy  3
East Barnet   2
Mill Hill High School 5
Finchley Catholic  1
Queen Elizabeth's Boys' School   1
JCOSS   2
The Wren Academy  1
Southgate    1
Friern Barnet School   7
Ashmole Academy   2
In 2020 children in Year 6 transferred to 19 schools:  
Ark Academy 1
Ashmole 2
Compton 15
Dame Alice Owens 2
East Barnet 1
Eden Girls (Waltham Forest) 1
Fortismere  1
Friern Barnet 16
Hendon  1
Henrietta Barnett 1
Highams Park (E4)  1
Latymer 1
Mill Hill  1
Private 2
Queen Elizabeth Girls 3
St. Andrew the Apostle 6
Totteridge Academy  1
Winchmore 1
Wren Academy 3
Once a Holly Parker, always a Holly Parker
Everyone remembers their days at Holly Park wherever they go on to in life. Here are some of our past pupils: 
Theo and Ellis Tomking left Holly Park in 2010 and 2014  respectively and went on to Ashmole Academy through to the sixth form where they did their A Levels. 
Theo worked and travelled for a year after he left school, and had the chance to go to Tanzania for four months to work on a sanitation project with the International Citizenship Service.  He did a degree at Manchester University in Biology, Science and Society and then went to York University to do a PhD in agricultural research.  Theo's best memory of Holly Park is being Santa in the Christmas show.
Ellis did his A levels during the COVID-19 lockdown and then went to Maine in the US  to do a basketball prep programme. He hopes to get the opportunity to play professionally one day and go to university.
Ellis best memory of Holly Park is when Mrs Tsenti read out his year 2 poem 'Elm Class Rocks' in their leavers' assembly.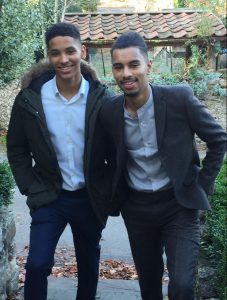 Gwen Holmes – Gwen (who would have turned 100 in February 2021) was a music teacher at Holly Park in the 1970s and her daughter, Sarah Holmes, was a pupil there at the same time.
Tamara Smart – Tamara has been featured in Time Out as One of the "Nine Londoners to look out for in 2019!" Since leaving Holly Park Tamara has been modelling and has starred in The Worst Witch on CBBC and Artemis Fowl.
Daniel Andrews –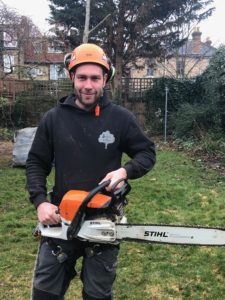 Daniel went to Holly Park in the 1990s and then moved on to Friern Barnet School. He said: "I remember playing football on a concrete pitch and I remember great trips – one to Knapp House and another to Hastings with Mr Pelham."
When Daniel left school he started bricklaying and then worked with his father gardening for five years. He went on to do qualifications in tree surgery and worked on the railways caring for trees. Now he has his own business in tree surgery – Andrews of Kimpton – and lives in Herfordshire with his wife and three children.
Brian Arnall – "I started my school career at St Johns School, moving onto Holly Park Junior school around 1947. I remember knitting Mum a dishcloth which must have been about 10 inches square; school dinners – no choice – greens, meat and potatoes 3 times a week, interspersed with macaroni cheese and some sort of stew stuff that had swede included, the smell used to drift into the classroom, disgusting!
I remember a couple of teachers, Mrs.Warren always springs to mind and a Mr Appleby I think he had something to do with sport.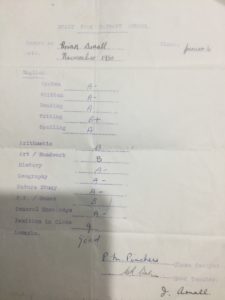 The photo is of an old school report of mine a bit faded but still readable, not quite sure what an A- was still don't know til this day.
I left the Junior school at the end of 1950 and went across to the Secondary modern school where I started in the top class and managed to stay in the top class until I left at the end of 1954, as my birthday is in January.
I started work in the City as a junior clerk, for a company called Lovell and Christmas, that lasted for ten months. I then got a job at a screen printers at the top of Bellvue Road,
I now live in Australia with my wife of nearly 50 years. We have three grown up daughters one of whom is a school teacher.
Did I enjoy my years at good old Holly Park School? Yes I did, no iPads no computers , no google, haven't times changed?"
Tom Hibberd  – Tom played the young Harry Potter in the West End production of Harry Potter and the Cursed Child.
Tom did lots of acting while he was a pupil at Holly Park – he went on tour round the country in The Boy in the Striped Pyjamas  and was Little Eyolf at the Almeida in Islington. Some of you might have spotted him and his sister Natalya in Topsy and Tim on CBeebies.
Juliet Whittington (nee Brown) (at HPS 1978 – 1988)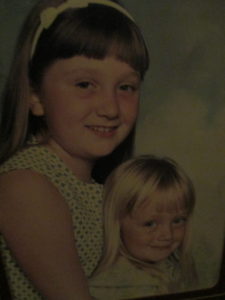 Juliet started at Holly Park at the Toddler Group in 1978 when she was one year old. She joined the Nursery in 1980 and left Holly Park in 1988 to go to Friern Barnet County School. After passing all her GCSE's she went to Woodhouse Sixth Form College to study A Level Art and A Level English and AS Level Music and AS Level Geography. After her A Levels she went to Middlesex University in Cat Hill to do a Foundation course in Art and Design for a year and then went on to the University of East London, achieving a Degree in Graphic Fine Art/ Illustration. Her first job as an office junior was in a book design company in Golders Green. After 5 years working her way up to Production Controller dealing with checking files for printing in the Far East she moved to HarperCollins Children's Book Publishers where she stayed for five years working on the production of Picture Books and Licensed Novelty books as a Senior Production Controller. She then fancied a change of scene and moved to be a Senior Sales and Production Controller at a Print Broker in Thame, Oxfordshire placing other Publishers Children's Books at printers in the Far East and Europe, where she currently is, living in Abbots Langley with her husband and children.
Joanna Brown (at HPS 1984 – 1994) – Joanna began Toddler Group at Holly Park when she was one year old. She then attended the full time Nursery. After leaving Holly Park in 1994 she went to The Compton School and then on to Woodhouse College to Study A and AS Levels. While at college she started a Saturday job at a hair salon in North West London. This turned out to be an inspirational opportunity to pursue her hairdressing career. She studied her level 2NVQ at Enfield College and worked on the salon floor for 8 years including photographic work and training future hairdressers, going on to complete a Level 3 advanced qualification and Wella courses shortly after moving to Suffolk with her fiance. She currently works part time in a salon in Hadleigh Suffolk, also being responsible for teaching trainees and marketing. She has settled with her family in Ipswich and plans to stay now that they have found a school which comes close to living up to the high standards experienced at Holly Park.
Michael, Andrew and Alex Spann left Holly Park in 2011, 2008 and 2006 respectively.
After they left Holly Park they all went to the Compton School and then on to Woodhouse College to do their A levels.
Michael is at university.
Andrew is currently studying Psychology with Neuroscience at the University of Leicester.
Alex is about to complete his final year of studying for an MSci in Theoretical Physics at Imperial College London.
They all enjoyed being Holly Parkers and have many fond memories of their primary school.
Stephen Salinger was at Holly Park from 1983 – 1989 – Stephen moved on to Christ Church (now Wren Academy) and Woodhouse College before studying Politics at The University of Manchester. He had a number of jobs in the City before learning how to invest in property. After a few successful projects he quit full-time work and bought a live music bar & restaurant with a friend. The bar was a lot of fun but wasn't viable so they sold it. Having trained swing dance as a social skill during this time, he then enrolled in a circus school in Bristol and spent two years training acrobatics and aerial. He performed in Swing Circus shows in Bristol, at Glastonbury Festival and at the Edinburgh Fringe. He runs a Swing Circus Festival in Bristol once a year and travels the world training various skills whilst managing his property business online.
Melissa (left) and Nicola Gartside 1976 – 1987
Melissa started in the nursery at Holly Park School in 1976 and left to go to Queen Elizabeth's School Barnet in 1984. She left QE in 1991 to study Materials Engineering at Birmingham University. Since then she has worked as a metallurgist in engine manufacturing looking at why parts fail in engines. She is starting a new job soon in a law firm that represent people who have civil claims against manufacturers. She sews, knits, embroiders, makes jewellery, sails and kayaks.
Nicola started in the nursery at Holly Park School in 1979 and left to go to Queen Elizabeth's School in 1987. She left in 1992 with the intention of becoming a riding instructor but that did not work out. She returned to Barnet College and did Science A levels. She worked her way up from technician to lab manager at the Laboratories of the Government Chemist. When she was made redundant from that job she moved with her family to Stratford-upon-Avon where they run a very successful dog walking, dog boarding and dog crèche business. Her mother Kate was a governor at Holly Park.