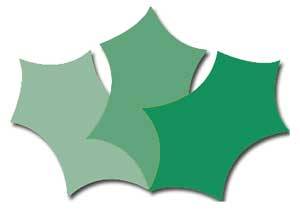 The Holly Park allotment has been created in a corner of the school with help from staff, parents, governors and the Eco Council.
If any parents would like to help with the allotment please contact Mrs Pelham.
Allotment News
We have had an abundance of produce in our allotment recently. Well done to Caroline and all the other adults and children involved in the allotment. Our school caterers have managed to use the goods to make salads for lunches which is lovely.
After School Club had a stall at the Easter Fair to raise money for our greenhouse.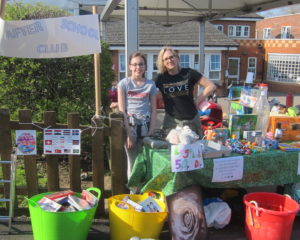 We held an open afternoon in the allotment. Lots of parents came and were very impressed with out crops and knowledge of plants.
The allotment is blooming thanks to Gardening Club, After School Club and the Eco Council and the dry stream has had a new lease of life.
Picking the crops!
Pupils from After School Club and Eco Council helped to pick some of the lovely crops we have grown this year.
I am pleased to announce that Holly Park has produced its first batch of compost from green waste produced at the school.
The composting programme was implemented around a year ago and has now reached a point where the school is able to recycle their green waste into a useable compost to mulch beds and improve soil structure and fertility.
We will begin by adding some in the beds.
Mr French was delighted when he came back from the summer holidays to find some crops had produced fruit and vegetables.
Staff came after lessons to help clear the weeds that have mysteriously grown over Spring. Mr Stewkesbury also found a newt in our pond.
Last year a staff working party got stuck in after school one day and cleared all the beds for planting.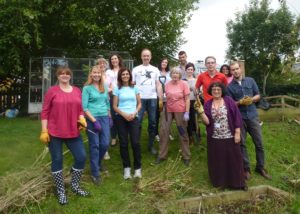 Here are year one picking some of the strawberries they planted.
Here are some of the pictures of pupils getting their hands dirty!
Part of our allotment has just been transformed:
As part of our Suds project an unloved part of the allotment on a difficult and weedy slope was converted to a 'river bed' and pond which will be used to attract insect and wildlife and will give the children the opportunity to do pond dipping.
After the professionals had worked to transform the area lots of the children planted the river bed with special plants which can withstand lots of water and drought periods. Here are some of the children planting the area.
You can learn more about our Sustainable Drainage project here.