Welcome to Hazel and Willow classes
The teachers in Year 3 are Neil Bourne (Hazel Class) and Eve Mehtar (Willow Class)
Nativity – what a fantastic Nativity! You can see pictures here. 
What we have been doing this term:
Year Three's major topic this term has been the Stone, Bronze and Iron ages . They have been learning about the Animals , Tools, Homes and Art. The topic was reinforced with a trip to the Museum of London where the children got to see and learn about various Artefacts from Pre history, these included, weapons, jewellery and the first coins. The children and staff had a great time and learnt a lot. 
In science they have been learning about rocks and magnets. To tie in with this the children have taken part in a science curriculum day on rocks and fossils run by GeoBus. They have also had a series of gymnastics sessions run by Non-Stop Action as part of their indoor PE curriculum. Year 3 will soon be rehearsing for their nativity show at the end of term.
National Y3 Tate Project
Holly Park Primary School is one of over 1,500 London primary schools involved in the Tate Year 3 Project, one of the world's most ambitious contemporary art projects. Explored through the vehicle of the traditional school class photograph, a vast new art work is one of the most ambitious portraits of children ever undertaken in the UK.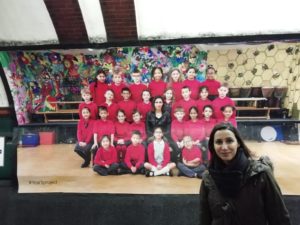 It offers a glimpse of the capital's future, a hopeful portrait of a generation to come. Last academic year, Turner Prize-winning artist and Oscar-winning filmmaker 
Steve McQueen
 invited every Year 3 pupil in London to have their photograph taken by a team of specially trained Tate photographers. They included children from state primaries, independent schools, faith schools, special schools, pupil referral units and home-educated pupils. Holly Park took part in this project. These class photos are brought together into a single large-scale installation, capturing tens of thousands of Year 3 pupils in a milestone year in their development. '
There's an urgency to reflect on who we are and our future […] to have a visual reflection on the people who make this city work. I think it's important and in some ways urgent.'
 Steve McQueen.
Both of our Holly Park Classes from Y3 last year will feature in the exhibition at the Tate which will run for 6 months. In addition to the thousands of class photographs exhibited together at Tate Britain, the Tate Year 3 Project will also take some of the classes out into each of London's 33 boroughs. An outdoor exhibition will feature individual class photographs on large billboard sites across the city. It will take place in the first three weeks of November 2019, beginning just before the opening of the exhibition at Tate Britain. The exciting news is that one of our Y3 classes was selected as only one of 54 classes who were selected from the apx 1500 classes. You may want to look out for them when you are out and about in London! Our current Y4 classes (Y3 last year) will be going on a trip to the Tate in March with their Y3 class teachers to see the exhibition.
Year 3 have been working with a Coach from Non Stop Action doing Gymnastics on the apparatus.
The children in Year have been looking at the work of artist Andy Goldsworthy who uses natural materials to create pieces of art. The children collected their own natural materials and made their own pieces of art using them.