Welcome, Добре дошли, Benvenuti, Karibu, Mirё seerdhe, Dobrodošli, Vítejte,  Willkommen, Kalwsorisate, Bienvenue, Boyei malámu, Sveikiatvykę, Witam, Bem-vindo, Bun venit, Добро пожаловать, Bienvenido, Hoşgeldiniz, آپ کا استقبال ہے, நல்வரவு, ਜੀ ਆਇਆ ਨੂੰ।,  پخير, 欢迎, 歓迎, स्वागत, ברוך הבא, સ્વાગત, καλωσόρισμα,  স্বাগত, ترحيب,  Soo dhawoo
A message from Headteacher Ann Pelham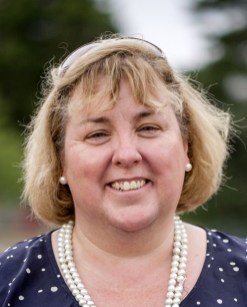 The school has now been closed for several weeks due to the Corona Virus. We are no longer together in the school building and yet we are still very much connected.
I started to think about why I have been at the school for 30 years – and of course – it's not because of the building! I realise that the old junior building with its pointed roof and its lovely bell tower is probably one of the landmarks that I've seen most in my life – but the buildings have changed over the years and it's not the buildings that make me love my job – it's the people. People often comment about 'The School' but what is – the school? Of course it is a building – but more than that – it is ALL of the people who make up that school – all of the individuals who come together to make it – pupils, parents, governors, staff. Holly Park is so much more than just a building – it is the people who make it special.
I am fortunate to work with some of the loveliest people – and although people also come and go – so many staff have been here for such a long time too because like me they recognise that Holly Park is a very special place to be. There is always a very strong sense of community and friendliness – visitors always comment. Although the school is pretty empty for now – the sense of community and togetherness still exists. Thank you for being part of our special community and for making it more than just a building.
In the words of our school song 'However far apart we are, we'll always be together…..we'll be Holly Park forever!'
Thank you all for your support and love​,
Ann Pelham
Here is the whole school singing our song Holly Park Forever: