Holly Park aims to become a Rights Respecting School.
The Rights Respecting Schools Award programme supports schools to embed the United Nations Convention on the Rights of the Child (UNCRC or CRC) in their practice to improve well-being and help all children to realise their potential.
The Rights Respecting Champions are eight Year 5 children. They work with Miss Michael to ensure that the whole school community knows about the rights that every child is born with and to ensure that these right are being respected. This year they will lead assemblies, Rights Respecting Days for the whole school and will also lead parent workshops.
Here are this year's Champions: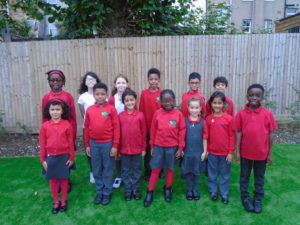 The theme of the House challenge this term was connected to Rights Respecting Schools. The children looked at the rights and discussed them. They worked in cross year group teams to prepare a presentation persuading others that the article they had chosen was the most important one. They prepared their presentations and then shared them with everyone. The children were awarded a maximum of 15 points to each group: 5 points for team work, 5 points for the presentations, 5 points for their persuasive arguments.
We also have a really lovely display in our Family Area. Every child in the school decorated an identity globe about themselves including – flag of their country, language, religious symbol, name, family, hobbies etc. This linked nicely to British Values, The right to a name and an identity, the right to choose a religion, the right to practice your own culture, language and religion. The display is named 'Holly Park. Our World. Our Community'.
Every class has made a new charter for their classroom. Here they are:
The UN Convention on the Rights of the Child sets out the human rights of every person under the age of 18. The Convention is an international human rights treaty which was adopted by the UN General Assembly in 1989 and ratified by the UK in 1991.
Here are the Rights
The Convention is a very important document because it recognises that all children have the right to be treated with dignity and fairness, to be protected, to develop to their full potential and to participate. It also lays out what countries must do to ensure that all children can enjoy their rights, regardless of who they are, or where they are from.
The Unicef UK Rights Respecting Schools Award (RRSA) supports schools across the UK to embed children's human rights in their ethos and culture. Schools can achieve a special award. The award recognises achievement in putting the UN Convention on the Right of the Child (UNCRC) at the heart of a school's practice to improve well-being and help all children realise their potential.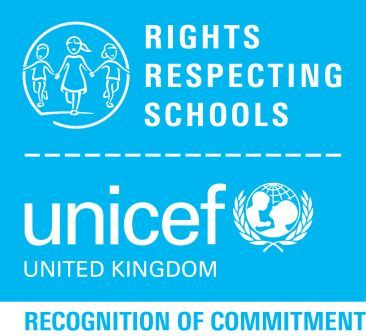 The award is based on principles of equality, dignity, respect, non-discrimination and participation. The initiative started in 2006 and schools involved in the Award have reported a positive impact on relationships and well-being, leading to better learning and behaviour, improved academic standards and less bullying. The Award is aimed at schools across the UK
Schools involved in the Rights Respecting Schools Award work towards recognition that they have embedded children's rights in their school's practice and ethos. Schools are required to implement four evidence-based standards that cover:
the leadership of the school,
knowledge and understanding of children's rights,
ethos and relationships
the empowerment of children.
Where are we at Holly Park on our journey?
We aim to become a Rights Respecting School in 2018.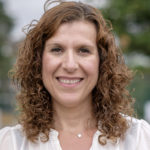 We have already done an audit of where we are now and have created a working party of  eight Y6 children and some adults including – Miss Michael, Mrs Puzey, Miss Hounslow, Miss Giles, Miss Sultana and Miss Rush.
We have had a whole staff Inset session to introduce Rights Respecting Schools to all staff – teachers, teaching assistants, nursery nurses, admin, site manager and mealtime supervisors.
Miss Michael and the Rights Respecting Champions held an assembly to remind the children about their rights and also about their charters.
After some more work with the staff at a staff meeting, class teachers went back to their classes and made the class charters more in line with the rights and they also thought about the pupil's and the adult's roles in the charters
At the start of the academic year 2016/17 each class made new charters for their rooms.
A Day for Change – Our International charity
Thank you for all of your donations of loose change. We collected a fantastic £600 in coins to donate to our International charity – UNICEF. It was very strange in assembly looking out at a sea of blue! The children came dressed in blue because blue is the colour for Unicef. We hope that our school donation will go a small  help towards helping to make change for the lives of children around the world. We chose Unicef as our International charity this year because we are a Rights Respecting School.
Digital rights
During  the week of Internet safety Day the children discussed their Digital Rights. Here is a Bill of Rights for the Internet 
World Water Day 2016
Ahead of World Water Day 2016, Mrs Pelham led an assembly about how lucky we are to have running water in our homes. She talked about water in some other countries that has to be carried long distances from lakes and streams and that can often be unclean. She told a true story about a boy who decided to do fund raising to help. Mrs Pelham linked the assembly to the UN convention for the Rights of the Child and Article 24.
Article 24
Every child has the right to the best possible health.
Governments must work to provide good quality health care, clean water, nutritious food and a clean environment so that children can stay healthy.
Richer countries must help poorer countries achieve this.
Rights Respecting Assembly
The Rights Respecting Champions led a whole school assembly where they talked to the children about their rights. They talked about the class charters, looked at the Rights Respecting Mascot and the whole school sang the new Rights Respecting song that the Y6 children had composed.
Here is a presentation made to staff: Rights Respecting School
The School Council discussed this at its December meeting.
Barnet Youth Convention
The Rights Respecting Champions and the Y6 School Council spent an afternoon at the first ever Barnet Youth Convention which was held at the RAF Museum in Colindale.
Young people from the ages of 10 – 25 were invited to attend to share their views and ideas about what is important to them in Barnet. They had to discuss what the following words meant to them – Responsibility, Equality and Opportunity.
They also discussed what the council could do to improve education, health, recreation and safer neighbourhoods amongst others and also what they as individuals could do. Their suggestions will go towards creating a Barnet Charter.
Class charters
At the start of the academic year, each class made their own class charter. These charters are on the classroom walls and  were based on our rights and responsibilities at school and also how we should behave and how we should behave towards others.
Here are some of our charters: