Holly Park is a Rights Respecting School.
The Rights Respecting Schools Award programme supports schools to embed the United Nations Convention on the Rights of the Child (UNCRC or CRC) in their practice to improve well-being and help all children to realise their potential.
The Rights Respecting Champions are 13 children from Y1-Y6 taken from the School Council. They work with Miss Michael to ensure that the whole school community knows about the rights that every child is born with and to ensure that these right are being respected. This year they will lead assemblies, Rights Respecting Days for the whole school and will also lead parent workshops.
Here are this year's Champions:
Autumn Term House Challenge
The aim of the House Challenge was to create a Rights Respecting Mascot. The children had to think of a name for their mascot and design the mascot thinking of which rights they represented. The children worked in a house group within their year group bubble. Each house group was awarded house points for teamwork and creativity. Miss Michael has chosen the winning design to become our official Rights Respecting Mascot. Here are some of the designs:
Rights Respecting Schools – Silver Aware Award
There has been a lot of work happening this academic year as we have been working towards the silver award. The assessment focuses on three strands:
Strand A – Teaching and learning about rights.

Strand B – teaching and learning through rights, looking at the school ethos and relationships.

Strand C – Teaching and learning for rights, looking at children's participation so that they can feel empowered to enjoy and exercise their rights and to promote the rights of others locally and globally.
The 13 Rights Respecting Champions helped Maria Michael to carry out the action plan. This included: assemblies about the rights, House Challenges linked to the rights, reference made to the articles in teachers' planning and in lessons, the articles displayed around the school and in the weekly newsletter. Children also became active citizens by campaigning for things that are important to them such as climate change.
Kahoot Game – Know Your Rights
In the Easter holiday, Miss Michael set a task to help the children really learn and become familiar with their rights and tests their knowledge. Kahoot is a global game and online learning platform that teaches children about rights through quizzes. The game was developed by Unicef Norway and has been translated into a range of languages including English, Spanish, French, Russian, Arabic, Norsk, Finish, Polish, Korean, Italian, Slovenian, German, Hebrew, Chinese, Icelandic, Bengali and Dutch. The children had to answer a range of multiple choice questions about Children's Rights. 
Climate Change
Earlier this year nine children, two members of staff and one governor attended the Climate Change Strike at Parliament Hill. This then inspired the whole school House Challenge where children will make banners, posters or plaques about something that they feel strongly about.
The Rights Respecting Champions also wrote to our local MP, Theresa Villiers asking her to raise awareness about all children's right to an education. This all links with article 12: Children have the right to give their opinions freely on issues that affect them. Adults should listen and take children seriously. The assessment happened on 6th March. The assessment involved meeting Miss Michael, talking to children, a learning walk around the school, talking to a range of adult stakeholders and looking at a file of evidence. We were delighted to be awarded the Silver Award and were told it was a strong silver application. It was suggested we should definitely work for Gold within a year to eighteen months.
Rights are for ALL children – UNIVERSAL
Rights are there at BIRTH – INHERENT
Rights CANNOT be taken away – INALIENABLE
Rights DO NOT have to be earned – UNCONDITIONAL
All rights are EQUALLY important – INDIVISABLE
The assessor will write a report. We were given some ideas to help us achieve Gold. The assessor was particularly impressed with: Class charters, pupil voice within the school, our focus on mental health, Rights within assemblies and the use of picture news and the creative ways we have taught children about the rights e.g House challenges and songs and how knowledgeable and articulate our children were. Well done to everybody involved but particularly Miss Michael who has really co-ordinated and led all stakeholders towards this award. We look forward to working towards Gold!
Take this quiz and see if you know the Rights: Is that a Right Quiz
House Challenge
The theme of the House challenge this term was connected to Rights Respecting Schools. The children looked at the rights and discussed them. They worked in cross year group teams to prepare a presentation persuading others that the article they had chosen was the most important one. They prepared their presentations and then shared them with everyone. The children were awarded a maximum of 15 points to each group: 5 points for team work, 5 points for the presentations, 5 points for their persuasive arguments.
We also have a really lovely display in our Family Area. Every child in the school decorated an identity globe about themselves including – flag of their country, language, religious symbol, name, family, hobbies etc. This linked nicely to British Values, The right to a name and an identity, the right to choose a religion, the right to practice your own culture, language and religion. The display is named 'Holly Park. Our World. Our Community'.
Every class has made a new charter for their classroom. Here they are:
The UN Convention on the Rights of the Child sets out the human rights of every person under the age of 18. The Convention is an international human rights treaty which was adopted by the UN General Assembly in 1989 and ratified by the UK in 1991.
Here are the Rights 2020
The Convention is a very important document because it recognises that all children have the right to be treated with dignity and fairness, to be protected, to develop to their full potential and to participate. It also lays out what countries must do to ensure that all children can enjoy their rights, regardless of who they are, or where they are from.
The Unicef UK Rights Respecting Schools Award (RRSA) supports schools across the UK to embed children's human rights in their ethos and culture. Schools can achieve a special award. The award recognises achievement in putting the UN Convention on the Right of the Child (UNCRC) at the heart of a school's practice to improve well-being and help all children realise their potential.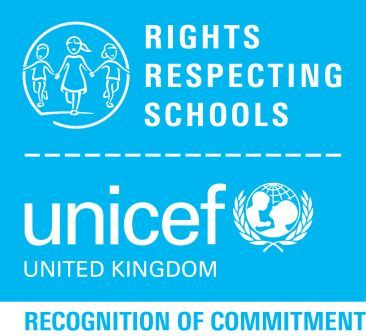 The award is based on principles of equality, dignity, respect, non-discrimination and participation. The initiative started in 2006 and schools involved in the Award have reported a positive impact on relationships and well-being, leading to better learning and behaviour, improved academic standards and less bullying. The Award is aimed at schools across the UK
Schools involved in the Rights Respecting Schools Award work towards recognition that they have embedded children's rights in their school's practice and ethos. Schools are required to implement four evidence-based standards that cover:
the leadership of the school,
knowledge and understanding of children's rights,
ethos and relationships
the empowerment of children.
Work at Holly Park
Classes made charters in line with the rights and they also thought about the pupil's and the adult's roles in the charters.
A Day for Change – Our International charity
Thank you for all of your donations of loose change. We collected a fantastic £600 in coins to donate to our International charity – UNICEF. It was very strange in assembly looking out at a sea of blue! The children came dressed in blue because blue is the colour for Unicef. We hope that our school donation will go a small  help towards helping to make change for the lives of children around the world. We chose Unicef as our International charity this year because we are a Rights Respecting School.
Digital rights
During  the week of Internet safety Day the children discussed their Digital Rights. Here is a Bill of Rights for the Internet 
World Water Day 
Ahead of World Water Day, Mrs Pelham led an assembly about how lucky we are to have running water in our homes. She talked about water in some other countries that has to be carried long distances from lakes and streams and that can often be unclean. She told a true story about a boy who decided to do fund raising to help. Mrs Pelham linked the assembly to the UN convention for the Rights of the Child and Article 24.
Article 24
Every child has the right to the best possible health.
Governments must work to provide good quality health care, clean water, nutritious food and a clean environment so that children can stay healthy.
Richer countries must help poorer countries achieve this.