On this page we will celebrate the achievements of our pupils both in and out of school.
If your child has achieved something outside school which you would like to share with us you can email Mrs Pelham on head@hollypark.barnetmail.net. If you are including a photo please ensure that there are no other children on the picture.
National Story Competition Winner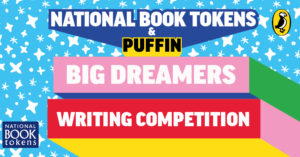 Stella, one of our Y4 pupils entered a national writing competition run jointly by National Book Tokens and Puffin. The competition was to write a story of up to 300 words, using the theme BIG DREAMS. The entrants could interpret the theme however they liked: an epic fantasy inspired by a dream, an amazing adventure that takes place in another world, or a true-to-life story set in an imaginary school. Stella's story was called 'No Regrets.'  Very well done to Stella who gained Highly Commended and won a £50 book voucher.
Chokhmah's 11th Birthday Run for Holly Park School
A Y6 pupil, Chokhmah has been doing a 5K run every day for ten days and on the 11th day (his birthday) he ran 10K. Chokhmah did this to raise money for Holly Park playground as a thank you for the time he has had at the school and because he developed his love of competitive running at Holly Park. There were lots of HPS children, parents, staff and governors there to cheer him on. Now it is our turn to say thank you to Chokhmah who has raised over £1,000. Amazing!
Snow White With A Twist Of Holly Park
Five Holly Parkers are treading the boards in a 1960's musical extravaganza staging of Snow White. Oliver, Amy, Max and Marianna from Y6, and Leila from Y5 are acting, dancing, and singing their way through 14 energetic performances, with solos from Amy and Leila. This is a boisterous and extraordinary adaptation of the traditional fairy tale, with original, foot-tapping show tunes and lyrical ballads. Most of the costumes form a riot of colour, while the baddies – the mobsters – remain almost monotone in black/grey and white. Don't mess with these guys! But do come and see them in action and find out whether Snow White manages to avoid their evil clutches. Snow White is on at the Chickenshed in Southgate.
Outside school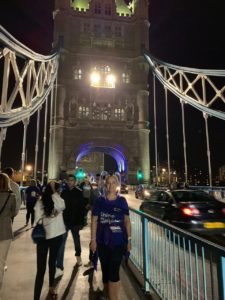 Last weekend one of our staff members – Mrs Kastrati was raising money for Cancer Research, by doing the "Shine Night Walk" It was a Half Marathon walk that went from Southwark Park over the Thames to Old Billingsgate all in aid of raising money to help beat cancer. It was a challenge as it was at night, from 8:30pm – 1:10am, all participants had lights around their hands and heads to light up the journey.
Scouts on Parade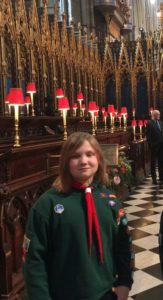 Brooke from Y5 joined three other Cubs from the 6th Friern Barnet Scout Group at the Commonwealth Service at Westminster Abbey. They, along with four brownies, had the honour of escorting the Commonwealth Flag during the opening procession, walking ahead of Her Majesty the Queen and other members of the royal family. This year's service was particularly significant as it marked the 70th anniversary of the Commonwealth. 
Brooke and the other Cubs represented Scouting throughout the Commonwealth, with morning rehearsals alongside other participants such as tenor Alfie Boe and endurance swimmer Lewis Pugh, followed by lunch at Central Hall, and the service in the afternoon. The entire service was broadcast on BBC1 – with the Cubs getting several close-ups!
Primary Maths Challenge
Over 30 of our Year 6 pupils took part in the National Primary Maths Challenge. The challenge was indeed challenging but the children showed great resilience in tackling it and giving it a go. Well done to everyone who took part, they all did very well. Bronze, silver and gold certificates were awarded to the highest scoring Holly Park children. Harry W will be going forward to the final round in February.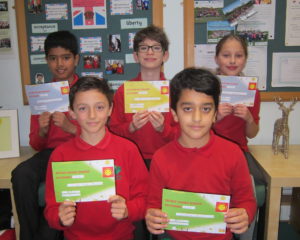 Can Holly Parkers persuade Scrooge to enjoy Christmas?
Five Holly Parkers are appearing on stage in Chickenshed's version of the Charles Dickens' novel, A Christmas Carol. Melissa and Leila, and triplets Oliver, Amy and Max all play the children of Bob Cratchit – the underpaid, badly treated clerk of Christmas-hating Ebenezer Scrooge. Max takes the role of Tiny Tim, the sickly boy whose life depends on whether Mr Scrooge can be persuaded to change his mind about the festive season. Will Tiny Tim die, or will Mr Scrooge finally recognise the joy in Christmas and take pleasure in helping others?  "It's a big responsibility playing Tiny Tim," says Max. "I'm glad I don't know anyone like Mr Scrooge. He's obviously not a Holly Parker". A Christmas Carol runs until 5th January at Chickenshed in Southgate.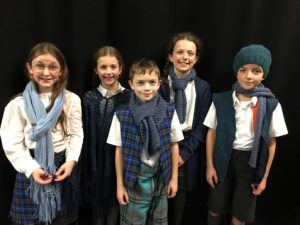 Who can grow the biggest sunflower?
We had two sunflower competitions – one for children to grow at home and one for which class could grow the biggest sunflower in the story garden.
The class who grew the tallest sunflower was Hazel (which proves that giving it plant food helps!), the class with the largest flower was Pine and the pupil who grew the biggest sunflower was in Y1 with a TWO METRE high plant.
Well done everyone who took part.
National Primary Maths Challenge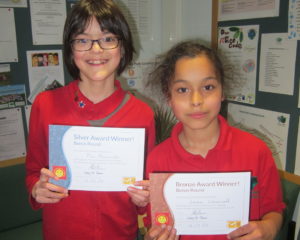 I am delighted to tell you of the fabulous success of two of our Y6 pupils in the Primary Maths Challenge which is a competition across the country.  63,000 pupils nationwide entered the competition in November, with 1932 pupils going through to the second round in February. Out of these pupils from across the country even fewer were medal winners. Two of our Holly Park children were amongst the winners.  Enormous congratulations to Luca who won Bronze and Mei who won Silver.
Cross Country success
One of our star cross country runners in the last few years has been Evie from Y6 who has won each of the six cross country races since Y4 by a significant margin.  In each case, she's been competing against around 80 girls from schools across the borough.
Evie has been training three times a week with Barnet Harriers at Allianz Park. This season she won the Under 11s cup for the most competition points gained for the club. She finished 8th out of 90 girls from the top 20 running clubs in London competing in cross country this winter over a series of five gruelling races in all sorts of weather. She came 15th out of 136 girls when representing Barnet in the London Youth Games cross country race at Parliament Hill – 62 places ahead of the next placed Barnet runner.
This summer she will be moving up to the under 13s age bracket and will be competing on track in both 800m and 1500m before starting the training for the 3k distance in cross country in winter.
Barnet Song Writing Competition Winners
Mr Hogan entered lots of our children into a Barnet wide song writing competition. I am delighted to tell you that a song written by Zoe and Tarlan in Year 6 was chosen as the winning entry and will be taught to all children in Barnet and will be performed at the Barnet Music festival later in the year. The song is called Gaia's song and is a song all about the earth.
The judge Jane Sebba said about the song: 'This is a beautiful song with all the ingredients to make my heart sing. The subject matter is relevant to today; the lyrics are descriptive and evocative. The melody is beautiful, the harmonies are interesting and varied, and there's a gentle but driving beat to carry us forward. You've used sequence, repetition and contrast; and there's a clear structure to the song. It's a pleasure to listen to. Thank you.' Congratulations Zoe and Tarlan.
Mayoral seal of approval!
Jessica in Y5 had a picture selected to appear on the front of the mayor's Christmas card this year.
Art Competition Winner
We recently took part in a London wide art competition run by the Metropolitan Police Service for children across London to design a Christmas poster. The overall winning poster will be used in their Christmas Tree campaign (to give presents to children across the capital who are in need).  A winner was chosen from each London borough and then sent centrally so that an overall winner for the whole of London can be selected from all the winning entries.  The winner of the competition for each London Borough was invited to the official campaign launch at New Scotland Yard (on the Embankment). I am delighted to tell you that Jessica in Year 5 has been chosen as the Barnet winner. Well done!
Jessica and her family all enjoyed their visit to New Scotland Yard this week. Here is a photo of Jessica with the Commissioner and also a photo of the poster she did. Jessica was the winner of the police poster competition for Barnet.
Success Outside School
Talia, one of our pupils has helped to make a promotional video for a great puppet show at The Dugdale over half term.
The company told us that she was amazing and very mature while filming. You can find out more here.