Cross Country
Holly Park took part in the Barnet Schools Cross Country Race at Oakhill Park.
All the children performed outstandingly well, with special mention to Joe in Year 5 who won his race.
When the overall results were tallied Holly Park had won by 1 point.
​Holly Park     99pts

OLOL             100pts

Monkfrith    ​ 137pts
Well done to Isabelle, Laura , Teddy and Kaloyan in Year 4
Maddie, Lily, Joe and Rafi in Year 5 and Kaia, Maya, Chayil and Seth in Year 6.
Netball
HP won 5-2 against St Johns in our first match since Covid.  The team played well; defended spaced out and caught the ball!
Cross Country
In October Holly Park took part in the Barnet Schools Cross Country Event. This year there was a record amount of schools taking part which meant there were over 80 children taking part in the races. 
All the children performed really well and there were some outstanding performances most notably by Chayil in Year 4 who won his race.
When all the points were added up Holly Park are in 5th place out of over 40 schools with the second event to come in February.
London Youth Games
In July a group of girls went to Crystal Palace Sports Centre to take part in a football festival as part of the London Youth Games. These girls had played in the Barnet Yr3/4 Tournament and been chosen at random to represent Barnet at the games.
The day consisted of playing a lot of different mini drills and games with other boroughs in a noncompetitive format. All the girls really enjoyed themselves and a fun time was had by all. Thanks to the parents who came to help and support the girls.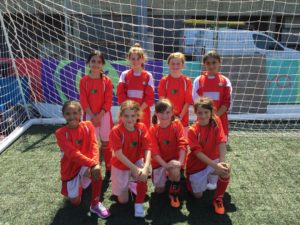 Copthall Athletics competition
In June Holly Park took part in the annual Barnet Schools Athletics event held at Allianz Park. Holly Park has traditionally been strong in this event and have definitely forced some of our rival schools to raise their game. Once again our children showed exemplary sportsmanship and behaviour both on and off the track.
There were many outstanding performances across the track, field and relay events with numerous first place finishes. Special mention must go to Louis in Year 4 who stepped up at the last minute to run two events including a win in his relay race.
Holly Park came second in the field events and missed being the overall school winner by 2 points. On the day, Holly Park were announced as 3rd in the Girls relay events. Holly Park staff asked the event organisers to check the results and later it was confirmed that indeed Holly Park had actually won the trophy. Unfortunately the children never got to collect
the trophy they deserved in front of a packed crowd at the event but at least the trophy is back in our cabinet – and well deserved!
Inter school Triathlon
Some of our Year 4 pupils participated last week in an interschool triathlon event
with our local partnership of schools – St John's, St Paul's, Coppetts Wood,
Hollickwood and All Saints.
Each child in our team of nine had to do cycling, running and swimming. Holly Park won
the competition trophy and came first out of all the schools. The Year 4 children also behaved very well.
Gymnastics Competition
In April Holly Park took part in the Barnet Schools Gymnastics competition at Hendon Leisure Centre.
There were sixteen schools competing. All the Holly Park Gymnasts performed outstandingly well and in the Year 3/4 competition Holly Park came 4th and in the Year 5/6 competition Holly Park came 3rd.
Well done to all our gymnasts.