Welcome to the first ever Holly Park Virtual Sports Day on Friday July 10th 2020
We would like you to wear your house colours and have a go at the 8 events below. For each event we have made a little video to show you how to do it.
As you do each event take a picture and email it to Mrs Pelham at head@hollypark.barnetmail.net
For each picture of you doing an event your house will receive one house point. Mrs Pelham will be awarding bonus points for people being creative doing the events and for those of you that can persuade your parents and adults to join in. (obviously we need photographic evidence!)
Good luck and have fun!
House Colours
Hydra – Blue

Phoenix – Red

Griffin – Yellow

Dragon – Green

Unicorn – Black
Cross Country
On Thursday 10th October Holly Park took part in the Barnet Schools Cross Country Event. This year there was a record amount of schools taking part which meant there were over 80 children taking part in the races. 
All the children performed really well and there were some outstanding performances most notably by Chayil in Year 4 who won his race.
When all the points were added up Holly Park are in 5th place out of over 40 schools with the second event to come in February.
London Youth Games
On Thursday 4th July a group of girls went to Crystal Palace Sports Centre to take part in a football festival as part of the London Youth Games. These girls had played in the Barnet Yr3/4 Tournament and been chosen at random to represent Barnet at the games.
The day consisted of playing a lot of different mini drills and games with other boroughs in a noncompetitive format. All the girls really enjoyed themselves and a fun time was had by all. Thanks to the parents who came to help and support the girls.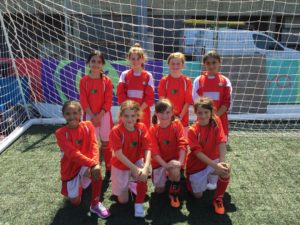 Copthall Athletics competition
On Tuesday 25th June Holly Park took part in the annual Barnet Schools Athletics event held at Allianz Park.
Holly Park has traditionally been strong in this event and have definitely forced some of our rival schools to raise their game. Once again our children showed exemplary sportsmanship and behaviour both on and off the track.
There were many outstanding performances across the track, field and relay events with numerous first place finishes. Special mention must go to Louis in Year 4 who stepped up at the last minute to run two events including a win in his relay race.
Holly Park came second in the field events and missed being the overall school winner by 2 points. On the day, Holly Park were announced as 3rd in the Girls relay events. Holly Park staff asked the event organisers to check the results and later it was confirmed that indeed Holly Park had actually won the trophy. Unfortunately the children never got to collect
the trophy they deserved in front of a packed crowd at the event but at least the trophy is back in our cabinet – and well deserved!
Inter school Triathlon
Some of our Year 4 pupils participated last week in an interschool triathlon event
with our local partnership of schools – St John's, St Paul's, Coppetts Wood,
Hollickwood and All Saints.
Each child in our team of nine had to do cycling, running and swimming. Holly Park won
the competition trophy and came first out of all the schools. The Year 4 children also behaved very well.
Gymnastics Competition
In April Holly Park took part in the Barnet Schools Gymnastics competition at Hendon Leisure Centre.
There were sixteen schools competing. All the Holly Park Gymnasts performed outstandingly well and in the Year 3/4 competition Holly Park came 4th and in the Year 5/6 competition Holly Park came 3rd.
Well done to all our gymnasts.
Y4 Football Tournament
On Wednesday last week 6 boys and 2 girls took part in the Barnet East Year 4 football tournament. The standard of football was very high and Holly Park were in quite a tough group. The team managed 2 hard fought draws and 2 losses to finish third in the group but unfortunately this was not enough to progress to the knockout rounds. The whole team played really well and behaved impeccably.
Cross Country
On Tuesday 19th April Holly Park took part in the Second Cross Country meet of the season.
In very muddy conditions they were some excellent performances, with Amarion claiming a silver medal in the year 5 race
When the points had been tallied Holly Park, after both events, came second in the borough out of the 37 schools competing.
Well done to all our fantastic runners.
Meet 1&2 Team Scores

1st

2nd

3rd

4th

5th
 ​
Football Success
 The Holly Park girls' football team took part in two competitions over the last few weeks and displayed some fantastic footballing talent. The girls played in the Barnet East tournament, winning the whole tournament without conceding a goal! They then progressed to the Barnet East finals and were unlucky to lose in the quarter finals on penalties. Huge congratulations to the girls who still have an opportunity of silverware in the other league and cup competitions.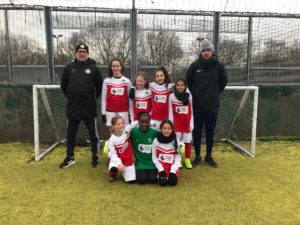 Cross Country

On Thursday 18th October Holly Park took part in the first Cross Country race of the season. In warm and sunny conditions all the runners performed really well , showing great determination to complete the 1500m course.
There were some stand out performances from Melissa T (5th in Year 6 girls race), Amarion (2nd in Year 5 boys race) and most notable of all Leila T (1st in Year 4 girls race).
We await the overall results from the day before we head into the second race in the New Year.
Well done to all the runners.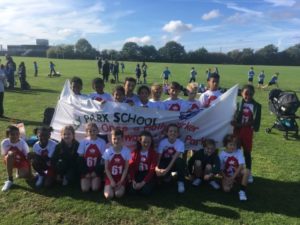 Copthall
Holly Park took part in the annual Barnet Athletics event at Allianz Stadium on Tuesday 26th June. In scorching conditions the children turned in outstanding performances from the very first field event to the last relay.
Once again Holly Park did outstandingly well, as seen by the results below. We won the girls relay trophy and are once again the Barnet Medium Schools overall champions.
Well done to all the children taking part.
Medium Field Events:
1st St Catherine's – 34
2nd Holly Park – 29
3rd Sacred Heart – 23
Girls Relay:
1st Danegrove & Holly Park – 22
2nd Queenswell & Whitings Hill – 12
3rd Osidge & Woodridge
Boys Relay:
1st Danegrove – 22
2nd Osidge & Underhill – 20
3rd Holly Park 18
Medium Schools Trophy:
1st Holly Park – 111
2nd St Catherine's – 96
3rd Osidge – 86​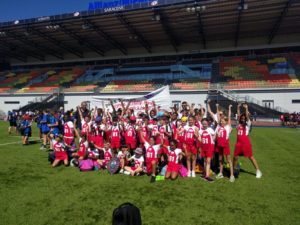 Football
Year 2 and 3 girls took part in a Borough tournament on Friday 25th May. The girls all performed excellently and scored many fine goals. Well done to all the girls taking part.
Gymnastics
Holly Park took part in the Barnet Schools Gymnastics competition. The competition has only very limited places and orginally Holly Park was not one of the schools scheduled to compete. However another school dropped out and Holly Park were invited to take part, last week!
The children and Ms Kelly have worked so hard for the 5 days they had to learn and practice their routines.
The children all performed stunningly well and made Ms Kelly extremely proud.
The year 5 children came 8th overall in an extremely tough competition and were only a couple of points away from the medals
The year 3 and 4 children produced amazing performances and came 2nd overall.
The year 2 children – in what was a remarkable achievement – came 1st and became Borough champions.
Considering the short amount of time the children had to prepare, all the children did amazingly  well. The year 5 children were great in assisting their  younger team mates and of course special thanks must go to Ms Kelly for training a team in such a short period of time and leading them to such great success.
Cross Country
Our Cross Country team has again proved to be the best in the borough beating all other schools in the second event of the year and coming top in the combined event.
One of the organisers said: "The students did fantastic making it to the finish line and showed great determination, the course was extremely muddy and boggy in areas which made it quite challenging. Well done to all that took part."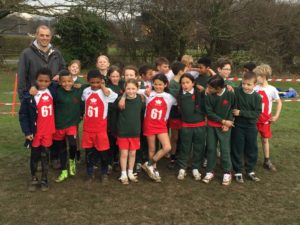 Well done to Evie Y6 and Amarion Y4 for coming first in their races.
The overall results from the two combined events were as follows (the least points wins):
1st Holly Park 311
2nd Akiva 331
3rd Osidge 430
4th Kerem 527
5th Martin 528​
Netball
The netball team took part in a tournament and missed the semi finals by one point. Coach Mrs Casey said they played exceptionally well and still have league games to play.
Cross Country
On Tuesday 17th October Holly Park take part in the first Cross Country Event of the year.
From the beginning the children showed incredible determination and effort, and there were so many fantastic performances that it is impossible to mention everyone individually. Special mention goes to Amarion who came 2nd in the Year 4 Boys race and Evie who came 1st in the year 6 girls race. Both Evie and Freya from Year 6 have been selected to represent Barnet in the upcoming London Youth Games.
Once all the results were in and added up the standings showed that Holly Park are currently in First place out of 36 schools.
| | | |
| --- | --- | --- |
| 1st | Holly Park | 162 |
| 2nd | Akiva | 173 |
| 3rd | Osidge | 242 |
| 4th | Cromer Road | 260 |
| 5th | Kerem | 280​ |
The second race in the competition takes place in March next year.
Well done to everyone involved.