Football
Year 2 and 3 girls took part in a Borough tournament on Friday 25th May. The girls all performed excellently and scored many fine goals. Well done to all the girls taking part.
Gymnastics
Holly Park took part in the Barnet Schools Gymnastics competition. The competition has only very limited places and orginally Holly Park was not one of the schools scheduled to compete. However another school dropped out and Holly Park were invited to take part, last week!
The children and Ms Kelly have worked so hard for the 5 days they had to learn and practice their routines.
The children all performed stunningly well and made Ms Kelly extremely proud.
The year 5 children came 8th overall in an extremely tough competition and were only a couple of points away from the medals
The year 3 and 4 children produced amazing performances and came 2nd overall.
The year 2 children – in what was a remarkable achievement – came 1st and became Borough champions.
Considering the short amount of time the children had to prepare, all the children did amazingly  well. The year 5 children were great in assisting their  younger team mates and of course special thanks must go to Ms Kelly for training a team in such a short period of time and leading them to such great success.
Cross Country
Our Cross Country team has again proved to be the best in the borough beating all other schools in the second event of the year and coming top in the combined event.
One of the organisers said: "The students did fantastic making it to the finish line and showed great determination, the course was extremely muddy and boggy in areas which made it quite challenging. Well done to all that took part."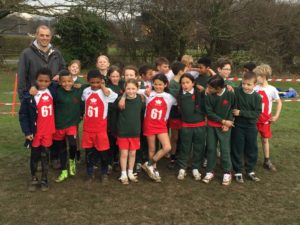 Well done to Evie Y6 and Amarion Y4 for coming first in their races.
The overall results from the two combined events were as follows (the least points wins):
1st Holly Park 311
2nd Akiva 331
3rd Osidge 430
4th Kerem 527
5th Martin 528​
Netball
The netball team took part in a tournament and missed the semi finals by one point. Coach Mrs Casey said they played exceptionally well and still have league games to play.
Cross Country
On Tuesday 17th October Holly Park take part in the first Cross Country Event of the year.
From the beginning the children showed incredible determination and effort, and there were so many fantastic performances that it is impossible to mention everyone individually. Special mention goes to Amarion who came 2nd in the Year 4 Boys race and Evie who came 1st in the year 6 girls race. Both Evie and Freya from Year 6 have been selected to represent Barnet in the upcoming London Youth Games.
Once all the results were in and added up the standings showed that Holly Park are currently in First place out of 36 schools.
| | | |
| --- | --- | --- |
| 1st | Holly Park | 162 |
| 2nd | Akiva | 173 |
| 3rd | Osidge | 242 |
| 4th | Cromer Road | 260 |
| 5th | Kerem | 280​ |
The second race in the competition takes place in March next year.
Well done to everyone involved.
Netball
Our Netball Team made us very proud after playing their first match this year and winning. They played against Osidge at Holly Park and won by an incredible score of 18 -4! Well done Netball Team and also well done to their coaches Mrs Casey and Miss Roe!
Copthall Athletics Tournament
On Tuesday 27th June Holly Park took part in the annual Barnet Schools Athletics event at Allianz Park. Having done very well over  the previous 2 years expectations were high for this year.
In the morning the Field events took place with many fantastic achievements particularly from our Year 6 children which resulted in wins in the girls long jump and javelin and in the boys high jump, ball throw and javelin. As well as these first paces there were many other outstanding performances.
The afternoon the track events place and once again there were many fantastic performances starting off with our Year 3 sprinters and finishing with fantastic long distance performances including one child who ran the last 100m in only one shoe and then literally threw himself over the line to secure 2nd place.
Unfortunately as the relays began torrential ran started which led to the event having to be called off.
The organisers had a quick think about what to do and decided this year to only award 3 trophies – one for the field events, one for the track events and an overall trophy.
I am delighted to say that all 3 trophies are safely back in our trophy cabinet.
Congratulations to all the children who took part. Their athletic performances were amazing but perhaps more importantly their behaviour, commitment and teamwork once again shone out. Well done
Medium Schools Field Events:
1st – Holly Park – 35
2nd – Whitings Hill – 32
3rd – Foulds – 29
Medium Schools Track Trophy:
1st – Holly Park – 51
2nd – Whitings Hill – 34
3rd – St Catherine's/Osidge -28
Medium Schools Trophy:
1st – Holly Park – 90
2nd – Whitings Hill – 74
3rd – Osidge – 47
Barnet East Girls' Football
Last Friday our Y6 girls' football team competed in the final of the Barnet Girls East Cup. They played Akiva school. Although they were very nervous, an early goal settled them down and they won the match with a final score of 5-1. The goal scorers were Sofia, Maya and Breanna. The girls came home with a lovely large shiny trophy which means that Holly Park retain the trophy from last year. This will be our third win of the same trophy! The girls came second in the east large schools league only losing their final game to Akiva who were unbeaten.  They are now in the final of the John King Trophy which is a borough wide cup competition for girls. They play their last match which will be against The Orion on 8th June.
Barnet Gymnastics Competition
This week, under the direction of Mrs Kelly and Miss Yianakki, Holly Park entered the Barnet Gymnastics Competition. The Year 2 team came 3rd out of 9 teams and won bronze medals. The Year 3/4 team came 4th out of 13 schools and the Year 5/6 came 8th out of 16 schools. Well done to all involved. They all looked very smart indeed. Miss Yiannaki was very proud of everybody who took part. We look forward to next year!
Cross Country
The cross country competition was very exciting. Our children behaved very well. Many of them demonstrated great team spirit and encouraged their team mates on. Calum in Y6 was particularly good at supporting his team and encouraging them. All of the children improved on their positions since the last competition – so there was definite progress! Evie in Y5 won her race and Gaby in Y4 came 4th in her race. Twenty six Barnet primary schools took part and Holly Park came 4th overall – congratulations to all the team including Mr Bourne and Mr Carini.
Football News
Our girls football team had marvellous success this week when they came 2nd  in the Barnet  Girls Borough Football Finals.  In the group stage they won all 4 matches with scores of 3-0, 4-1, 7-0 and 5-0.  This saw the team into the quarter finals. At this stage they faced Cromer Road the score was 3- 1.
This led them into the semi final against Whitings Hill. The team won this comfortably with a hat trick from Chloe. They went into the final against Akiva School on Wednesday. They were up against very strong opposition. The final score was 3-1 to Akiva. 
Each girl was presented with a silver medal. This is a great achievement – coming 2nd out of all the primary schools in Barnet. On top of this the Holly Park team was chosen to represent Barnet at Wembley for the chance to represent Middlesex FA in the Danone Cup. The competition was extremely difficult but the girls did themselves and their coaches proud.
Netball News
Miss Roe and Ms Casey took Ruby and Katie (Yr 6) Zoe, Eva, Jamie, Joe and Alyah (Yr 5) to the North Barnet netball tournament at QE Girls last Thursday.  In spite of the bitterly cold weather they played well and came fourth in their group.  Miss Roe and Ms Casey are extremely proud of all the netball team and their progress they have made since September.  
Holly Park vs St. John's N20
On the 5th of December Holly Park went to play a football match against St. John's N20. It was the first cup match Holly Park had played which meant whoever lost was out!
St. John's took kick off and started quickly but Holly Park was ready for it and they retrieved the ball. Our left winger Teddy did a clean through ball down to Zack who whacked the ball scoring the first goal of the game putting the Holly Parkers 1-0 up. Endless times St. John's were pelting some great shots, but our keeper Louie kept saving them!
Throughout the rest of the first half all the Holly Parkers were raging through and at the end of the first half it was 7-0 to Holly Park. The goals were scored by: Zack, Teddy, Joe.F and Eurico. In the second half it was going well until St. Johns took a corner and scored their first goal. But not long after, the Holly Parkers struck back and scored an amazing header which ended the game at 8-1 to the Holly Parkers!
By Joe Ward, Captain
Holly Park VS Coppetts Wood
On the 18th of November the Holly Park years 5+6 boys' football team went to play a match at Coppetts Wood school to play against their years 5+6 football team. At the beginning of the match the whole team was feeling very confident and raring to go. Unfortunately near the beginning of the match the centre of our defence was left open and Coppetts Wood ran through scoring the first goal of the game.
The Holly Parkers were very disappointed but we all knew we had to keep fighting. But not long after it happened again and Coppetts Wood scored a second goal. The Holly Parkers had had enough and were throwing in some incredible passes, shots, tackles and some unbelievable saves! After a bit of struggle, a goal was scored by our left winger Eurico. Holly Park carried on doing some great stuff and another goal was scored as well by Eurico.
But it just wasn't enough and throughout the second half Coppets Wood kept scoring more goals. It was a real shame, but the match ended up as 6-2 to Coppets Wood. We may have lost but I feel the whole team did really well and tried their hardest throughout the entire match.
By Joe Ward, Captain
Cross country – October 2016
Holly Park took part in the Barnet Schools Cross Country Event on Thursday afternoon. All the children showed a great deal of commitment and determination and all performed really well. The overall team result will be sent to us next week but the outstanding individual result was by Evie in Year 5 who won the Year 5 Girls race.​​