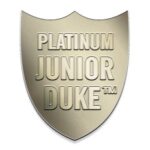 Platinum  (Y6)
For the Platinum  challenge the children need to do the following activities:
Caring for others – Look around the neighbourhood for something that needs to be improved. Draw up a plan to rectify the problem and write to the appropriate person.
Averting Disaster – Find out how to turn off the electricity and water to your house as well as how to use a fire blanket
Happiness – Know what makes you happy. Spend a few hours doing what makes you happy. e.g reading, dancing, singing etc​
​Cookery – Follow a recipe, cook a hot meal for your family's dinner
Sport and Body Strength – Pick a sport you enjoy and perfect a couple of skills. And follow a video guide to perfect body strength exercises over the course of a month
Drama – Choose either:
Perform in front of an audience

Write a short play

Use technology skills to make a movie trailer
Domestic Challenge – take the sheets off your bed, learn how to use the washing machine, hang them out to dry or use the airer or tumble drier. Iron the pillow case. Put the sheets back on the bed​
​Computer Challenge – Design a website page to include:
A coloured background

Two different sized titles

Two different font faces

Three hyperlinks connecting the page to relevant internet sites
Trip Planning – Plan a trip using a timetable (bus, train or other transport) Know the time you need to arrive and work out the details of your trip. ​
First Aid – Know how to spot the signs of a suspected heart attack. Know when to use CPR and how to perform it. Know the mobile phone numbers of two responsible adults
Cookery:
Domestic:
Trip planning:
Drama:
First aid:
Happiness:
Averting disaster:
Sport: