Welcome to Nursery
The staff in nursery are  Louise Wood, Jenny Elia and Alison Rush, Lydia Dennis and Mirisje Kastrati
Here's some information for parents:
Savannah sent these pictures of her party in the rain!
"We had our party and we danced in the rain and we ate lots of snacks," she said. 
International Day
Nursery children made tickets for their flights and made their own passports for their journey. They visited Africa. They went on safari and looked at animals hidden around the nursery. They explored fruit and veg from Africa, looked at African patterns. They read the book Handa's Surprise which is set in Africa and talked about the setting and compared the houses to their own.
British Values Day
The nursery children enjoyed watching the story of George and the Dragon. They re-enacted the story using puppets and they made their own shields. The children painted their own British flags and played with red, blue and white shaving foam. We had an interest table in the classroom with books, photographs and objects linked to famous British landmarks, transport and people.
Finally, the children made cucumber sandwiches all by themselves. They really enjoyed eating them and most children came back for seconds!
Nursery Art Week 
The children started the week with lots of colour mixing activities. They learnt the names of colours and then found out what happened when different colours were mixed together. The children explored what happens when we paint ice with water colours and when coloured paint was mixed with shaving foam and corn flour.
The nursery then looked at paintings from famous artists and tried to create their own versions of them. The children made their own Jackson Pollock paintings by flicking paint onto large paper and they used wooden blocks to create some Paul Klee type paintings. The children really enjoyed making their own 'Concentric Circles' by Kandinsky using pastels and we ended the week with the children making up their own circle paintings using round objects such as cups and lids. On the Thursday all of the children came into nursery wearing their favourite colour. 
Here are some of the stories we recorded for home learning.
We have been very busy at home doing puzzles, drawing and making things.
Here are some more of our home learning pictures.
Here Louis and Sav enjoying a big bowl of porridge for breakfast. They chose strawberries and honey and maple syrup and chia seeds for their toppings.
————————————————————–
Christmas
The nursery children had a wonderful time at their Christmas party. They made party hats, danced to music, sang on the karaoke machine, made necklaces by threading beads, played Musical Statues and ate party food. The children enjoyed playing at our wintery small world scenes and they even found time to practise their counting skills with our new Numberblocks toys.
Nursery started the year joining in with the whole school project of 'Here We Are'. They made a collage of the Earth and the children thought about people who are special to them and people in their family.
They did a whole learning project about animals all around the world. They turned their role play area into a pet shop and made a dark den to learn about nocturnal animals. They learnt about animals that live in the farm, jungle and savannah. There was lots of research done by using books and the internet. They focused on the book 'We're Going on a Bear Hunt'. The children went on a bear hunt at school. They looked at pictures on a map and then drew their own story maps of 'We're Going on a Bear Hunt'. They made a scene from the book with collage. They also learnt some Bear Hunt yoga poses.
In maths, they have been using the Numberblocks programme, as introduced by Mrs Mir. They have been focusing on 1:1 correspondence and ordering numbers 1-5.
To develop mark-making, the children received a letter from Elsa (from the film Frozen) to say that she needed to pictures to brighten up her castle walls. The children were excited to respond with their own mark-making. The children also received a letter from Spider Man. The role-play area then became an office. In response to the letter from Spider Man, the children used Numicon pieces to fill grids that were in the shape of different sky-scrapers from a Spiderman scene. This linked with the work they had been doing in their maths learning.
Lastly, the Nursery children participated in Global Nursery Rhyme Week – including dressing up as characters from Nursery Rhymes. They took part in a whole week of activities including lots of role-play and singing.
The nursery children went on ​a minibeast hunt in the school allotment as part of a big animal topic.
The children have settled well and are enjoying their first term in the nursery.
ARCHIVE
Picnic time!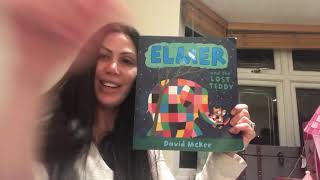 Listen to Mrs Thrasyvoulou reading your favourite story  (parents – please supervise children accessing the internet).
There are lots more stories here.
———————————————————————-
Here is some important information about the safety of nursery children: Safety tips leaflet for the beginning of nursery sessions
The nursery operates two sessions – one in the morning (8.45am-11.45am) and one in the afternoon (12.45pm-3.45pm). The prices from September are: HOLLY PARK NURSERY PRICING
Breakfast is available from 7.45am-8.45am for £7.50
Lunch is from 11.45am t0 12.45pm is £7.50 for the session and £2.34 for cooked lunch – children can also bring packed lunch or go home.
Nursery After School club is from 3.45pm – 6pm and costs £16.90 plus a meal for £2.34.
Extended Services – Paid for places
Paid for places (breakfast, lunch, after school club and paid for sessions) still need to be paid for even if the school is closed due to exceptional circumstances e.g Snow, strikes, adverse weather, lack of heat/water, fire, the need for a deep clean or a national crisis.  In these circumstances payments will still need to be made as staff need to be paid and heating and lighting etc still need to be paid for.
——————————————————————–