**Our Holly Park school lottery has raised £830 so far, we congratulated 22 Holly Park winners and if you join before the end of this term you could win a Harry Potter studio tour…that's is what I call a win/win situation. 
BUT…YOU HAVE TO BE IN IT TO WIN IT! Here's How to play.  MAKE SURE YOU SELECT THE RIGHT HOLLY PARK SCHOOL! Register now and you could win a Fit Bit for your whole family.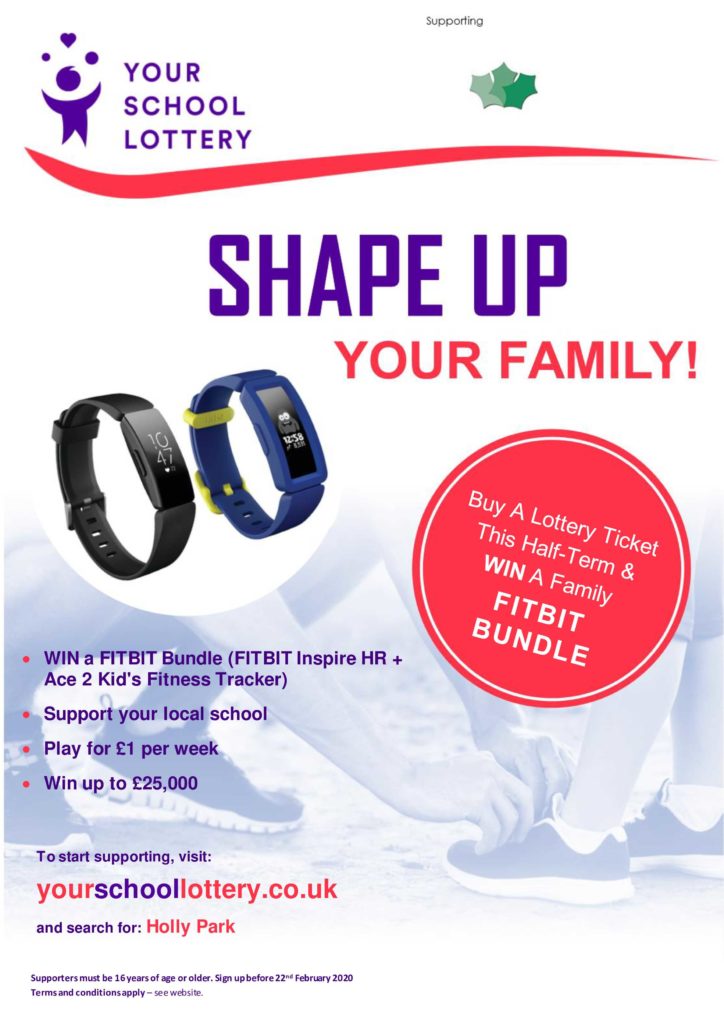 Calendar
Second Hand Uniform Sale 14th January 3.30pm

Beat the Blue night 20th January 7-9.30pm

Bags2School 22nd January 9.00am

PTA meeting 31st January 9.00am

Discos 7th February Reception: 2.45-3.15pm. Y1/Y2/Y3: 3.45-4.45pm Y4/Y5/Y: 5.15-6.15pm

Valentine's Day table 14th February 3.30pm

Pancake Day table 25th February 3.30pm

Second Hand Uniform Sale 3rd March 3.30pm

Year 3 Cake Sale 13th March 3.30pm

Mother's Day Shop 18th March tbc

Easter Fair 27th March 3.30-5.30pm

Car Boot Sale 28th March tbc

Bags2school 3rd April 9.00am
News
The Winter Fair was a lovely event with mince pies, mulled wine, lots of prizes and a super puppet show, not to mention Santa! We raised an amazing £5485 which includes £1520 match funding. Well done to all the volunteers who made it such a successful day. 
Our raffle winners were:
0097 won 2 VIP tickets to a Chelsea women game

1707 won a 1 month life coaching for 1 parent

2368 won 4 front row tickets to Cinderella Pantomime at the Arts depot

2313 won 4 weeks of Enjoy-a-ball or Physi-ball lessons

2472 won a 7ft Christmas tree

2013 won a mini spa ritual at Cove Spa

2892 won 2 tickets to London Eye

1482 won a 1h full body massage from Natasha Molloy

2776 won 3 bottles from Majestic

2268 won a £30 voucher at the Arnos Arms

1763 won 2x 1h of flipping at Flip Out Brent X

0537 won 2 ice skating vouchers at Ally Pally

2204 won a £10 Waterstones voucher and "The crayons Christmas book"

0946 won 2 creative writing workshop for 1 adult and 1 child

2346 won 2 tickets to watch any play at the Incognito Theatre

0917 won a manicure at Heenal Hair&Beauty salon

0768 won a personalised luxury balloon

2377 won a 30min personal training session

0905 won Braggs vouchers

2858 won a 20% off  voucher at Sea Rock Indian Bar&Restaurant
Thank you all for filling your bags2school. We collected 400kg @ 40p/kg – so that is £160 raised for Holly Park and in the process we are helping other countries. Someone asked what happens to the clothes? So, once collected, they are baled and shipped to factories where all the garments will be sorted and start a new life in Africa, South America or Eastern Europe.

We have never seen so many cakes last Friday morning – coffee morning, Y6 cake sale and the Reception family night. Thank you bakers!! The Y6 cake sale was our first cake sale of the year and made £142. Well done all and the benchmark has now been set!!! The MacMillan coffee morning last week was well attended by Holly Park parents. Thank you to the parents who also donated a cake for the coffee morning. Parents enjoyed a drink, a cake and a chat in the dining hall. Thank you to everyone who made a contribution to this wonderful charity. We raised £98.39 (+£22.50 through gift aid) on the day. However, it is ongoing all of this week so please feel free to add to their fund at the school office (in the MacMillan money box) if you would still like to donate

Last Friday school staff and the PTA held a family fun night so that all of our Reception families whether they were from our morning nursery, our afternoon nursery or have just joined Holly Park could get to know each other in a relaxed social atmosphere. The evening was a success. The families played a human bingo game in order to meet new people, the children played with Lego and dinosaurs while the parents chatted. The fish and chip suppers arrived and were delicious accompanied by carrot batons followed by fruit and cake. Afterwards the families went outside to play in the infant playground which is where Reception play at lunchtime.

Over the summer holidays something quite extraordinary happened to our school and to some parents and one teacher, they all became LOTTERY WINNERS. Our school lottery raised to date £334 for Holly Park school and so far 9 parents and 1 teacher have won up to £29.40 each. Well done and congratulations!

We have just been informed, one winner gave their winnings back to our school that's £361.30 for our school raised over the summer holidays. Thank you amazing winner and what a superstar
Cake sales
The traditional cake sales continue to provide a steady income to the PTA. Here is a breakdown of the year group totals:
Year 6: £167

Year 5: £174

Year 4: £124

Year 3: £95

Year 2: £130

Year 1: £161

Reception: £85
Summer fair
The annual summer fair was a huge success with lots of families enjoying the sunshine. The fair was a jolly affair with a warm and friendly feel. The Y5 and Y4 children loved doing their apprentice stalls and we wait to see which of their stalls raised the most money. The inflatable was popular, the BBQ and cakes were delicious…… and the sun shone! The staff and governors who came enjoyed it. The PTA raised approx £3,000 which is fabulous. A massive thank you to Nathalie and Amanda and the amazing team of volunteers. A fair on such a big scale is not possible without volunteers.
Summer news
The BBQ and Bingo night was a lovely family gathering. Three lucky winners received £7 each for a line and another three lucky winners left with £20 each in their pockets for a full house. The fruit bingo/ musical statue was a hit for the children big and small. The Pimms was flowing and some Y6 children took charge of the sweet shop. Simply a great team effort and a lot of fun to run. Thank you Cristina for all the tips and a special shout to Michael who was on BBQ duties followed by being the bingo caller for this event. The goodies for daddies proved very popular with the mugs sold out within minutes and the rest of the gifts not lasting much longer making an incredible £80.50. SATURDAY 6th JULY 12- 3.30pm is the school fair. If you have anything to donate, from goodies to ideas, even time or a smile please come and find us and share your interest with us (on Fridays from now on in the family area at 9am) or any other times drop a note in the PTA drawer.
Be a part of the Holly Park PTA lottery
This lottery is organised nationally and many schools take part. It has been set up specifically to raise money and make a difference for our children! Look at the website  for more information. It's a fantastic way to bring Parents, Carers, Teachers, Governors and the wider community together, in partnership with the school, and at the same time give something back. We hope to raise funds that can support and enrich the education of our children – we aim to provide extra resources for the children in the very near future such as – a new improved Early Years outdoor area, new surface for the story telling chair area, a writing shed for the Junior playground and a table to go with it and a reading shed for the KS1 playground. Your support is greatly appreciated and we wish you good luck! Tickets cost just £1 per ticket, per week and 40% of all ticket sales are donated to our school. There is a guaranteed cash prize to someone on our Holly Park supporter list every week. There is a further chance of winning £25,000 in a separate draw EVERY WEEK! Draws are every Saturday at 8pm and results are posted online. The first draw is on Saturday 6th July. Don't miss out on a chance of the winnings!
Read about here: https://www.yourschoollottery.co.uk/play (MAKE SURE YOU SELECT THE RIGHT HOLLY PARK SCHOOL!)
School discos
The Easter Fair was lovely and very popular as usual. We raised over £1200 for the school.
There was a fantastic turn out for our school discos!
Christmas fair
The Christmas fair was a huge success with crowds flocking to have fun. The fair raised around £3000 for the school. 
Bonfire treats
Thank you to everyone who contributed delicious treats to our bonfire night treat stall. All your donations, hard work and creativity made £104.60 for the school.
PTA Junior Quiz
The Junior Quiz was a great success and great fun, with all of our houses competing for the Junior Quiz Shield. The quiz had a selection of questions ranging across general knowledge, history, maths & symbols! Thank you to all the Holly Park staff and the PTA team of volunteers for making the quiz possible. The PTA raised £62.60.
The results are as follows:
First Dragon 500 points

Second Griffin 400 points

Third Phoenix 300 points

Fourth Hydra 200 points

Fifth Unicorn 100 points
PTA News & Events
This last week the PTA raised £60.90 from the coats and jackets sale, a fantastic fundraiser.  The Y6 Cake sale last Friday also raised a wonderful £163.50.
The PTA is also proud to say that the Reception family Fun Night with fish and chips was a lovely event with a great group of new parents who are enthusiastic and eager to get involved. 
The PTA Macmillan coffee morning raised £165.25. What a busy PTA week last week was!!! Thank you all for your support and generosity.
Cake sales
The regular year group cake sales are always successful and a a great way to raise funds throughout the year. In 2017-18 the sales raised around £1000.
The year groups were as follows:
Reception – £125

Year 1 – £135

Year 2 – £140

Year 3 – £145

Year 4 – £153

Year 5 – £177

Year 6 – still be to announced.
PTA Summer Fair 
The weather was glorious for the PTA summer fair and the crowds had a marvellous time with live music, go karts, Pimms, stalls and strawberries and cream.
Can You Help Raise Money For The School Through Match Funding At Your Work Place?
Did you know there are hundreds of organisations which offer their employees the chance to boost their fundraising efforts by 'matching' the money they raise for a chosen cause?   Is your company one of them? By manning a stall at the Winter Fair for ½ an hour, a Shell employee raised £350. Since the school year started, five donations have raised an impressive £3,500 for PTA funds. Your company may offer a match funding programme so it's worth speaking with your HR department. It is usually a simple case of filling out a form and then supplying a letter on Headed Notepaper confirming the amount raised at the event and your involvement. Please reach out to the PTA Committee by emailing ptahollypark@yahoo.co.uk if you need more information or help approaching your organisation. Look out for a leaflet about match funding which will be emailed out.
Contact us
There are several ways to contact the Friends of Holly Park School:
Come along to a meeting.
Talk to a committee member.
Email: ptahollypark@yahoo.co.uk
Check our facebook page Holly Park PTA
Put a note in the blue PTA drawer in the school foyer.
For more information on the Friends of Holly Park read our parent pack: PTA Parent Booklet