Staff get stuck in
A group of staff got together after school to get the allotment into shape before winter. They dug the beds and cut back the weeds and now it looks lovely!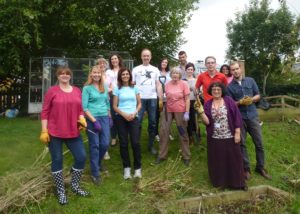 Staff put their best feet forward
Clare Mornington, Louise Wood and Caroline Giles completed the Race for Life 5k muddy challenge on September 20 then the Shine Half Marathon night walk a week later and raised £160 for Cancer Research.
Have a look at their pictures:
Our newsletter is sent out every week by email
If you do not already get your newsletter by email then contact Mrs Hassan on office@hollypark.barnetmail.net