British values day 
In May we celebrated British Values day and the children came to school wearing red, white and blue.
We also had Morris dancing sessions in the hall for the children from Years 2 to 6. Morris dancing is a traditionally British form of dancing, Morris dancing is a form of English folk dance usually accompanied by music. It is based on rhythmic stepping. The dancers usually wear bell pads on their shins and the dancers wield handkerchiefs. The children really enjoyed the sessions.
British values are now woven into our PHSE curriculum so that they are part of our planned curriculum and are not just happening by chance. We have had a series of assemblies each week about British values.
Each year group has a particular topic that they learn about on our British Values Day.
EYFS In nursery & Reception the children learned about British traditions, events and British landmarks. There was also opportunity to do lots of activities involving red, white and blue – e.g painting, red and blue coloured water coloured cornflour, castle and George and the dragon small world scene, crown making, British Values day interest table with objects, photos and books, Making cucumber sandwiches.
Year 2 learned about Individual Liberty. They thought about bullying and that we should all be free from bullying. They talked about different kinds of bullying – social, physical, verbal and online. They looked at the Holly Park Helping Hands. The children listened to the story 'The Juice Box Bully' to understand how children can be either 'bystanders' or 'upstanders' in a situation and to empower children to stand up for others. The children had different scenarios to decide if there was bullying going on or not and if there was then what type of bullying it might be. Children then got into groups to work together as a team to build a house of cards.
Year 3 learned about the Rule of Law. They thought about the role of school councils and groups. They talked about how we can resolve differences by looking at alternatives, seeing and respecting others points of view, making decisions and explaining choices. They thought about the restorative approach, They talked about Pupil Voice at Holly Park – What is it? Why is it important? What difference can it make? How can I be involved? They also thought about Rights. Who has these rights? Why are they important? How do we respect the rights at Holly Park?
Year 4 learned about Mutual Respect. They thought about – What makes our community? The different contributions that people and groups make to the community, how different members in the community help and our responsibilities for protecting the environment.
Year 5 learned about Democracy. They learned how to identify the key elements of a democracy. They thought about the key elements of democracy, who makes the decisions, local government and the rights of every citizen.
Year 6 also learned about Democracy. They learned about how our government and parliament function. They talked about how democracy works. They discussed voting. They learned about the House of Lords and the House of Commons. Upcoming Special Day Friday 27th May is our Jubilee Celebration Day – children should come to school that day dressed as Kings and Queens.
Project Britain Day
 We celebrated British Values on St George's Day. We learned about some British traditions – we listened to some live folk music from England, Scotland & Wales. We did some country dancing. We also focused on the British Value of mutual respect. The children came dressed as famous Britons – artists, inventors, engineers, politicians, scientists, sports personalities etc and in their class they talked about these people. The children heard the story of George and the dragon and each class also focused on the work of a famous British artist.
Celebrating London History Day
We joined the Mayor of London in supporting a day of celebration to mark the global history and culture of London as a city. London has been shaped by people who have come and gone from around the world to make the city their home. London has a wealth of cultural heritage and scientific venues. 
Holly Park children came to school dressed as their favourite historic Londoner or from a period of London's history – Queens, Paddington, Punks, Boris Johnson, Suffragettes etc
Key Stage 1
In KS1 the children took part in a carousel of activities during the morning. Mrs Casey taught the children how to play cricket, Mr Turner talked to the children about famous British bridges and the children used their DT skills to make strong bridges. Mrs Fitzpatrick talked about 'What is Britain?' and looked at some very British paintings by 'Lowry.' The children had a go at drawing a part of one of his pictures and then all the bits were put together like a jigsaw to make a big 'Lowry' picture. Mrs Mir talked to the children about the history of the sandwich and afternoon tea and the children made cucumber sandwiches, ate strawberries and decorated biscuits with the Union Flag. In the afternoon, Year 1 learnt about the story of George and the Dragon. They made puppets of the characters and wrote poems. Year 2 thought about Individual liberty and similarities and differences about what boys and girls can do.
Key Stage 2
During the day, children in KS2 took part in a carousel of activities that were all about British customs and traditions. One activity was to play tennis, another was to play cricket. Another activity was to make traditional sandwiches with cheese or cucumber – of course the crusts were removed and the sandwiches either cut into triangles or fingers! Some children made scones and others decorated biscuits with red, white and blue patterns. Our final carousel activity was to take part in a Morris Dancing workshop. We had an invited guest who is part of a Morris Dancing team. He talked about what Morris dancing is, its origins and where it is done. He gave a demonstration of a 'Jig' in his bells and ribbons whilst twirling his handkerchiefs. He also played the melodeon for the children. The children had lots of fun learning a circle dance with lots of clapping, jumping and skipping. When they were not in carousel activities the children explored our British Values. Some children considered the idea of democracy ahead of the announced General Election and discussed and voted about 'Should children be allowed to bring toys to school?' One class looked at poetry by Benjamin Zephania and made bunting about mutual respect. Another class looked at strange and unusual and often ancient laws. One class studied the rule of law and what that meant. They then made posters to illustrate their ideas. There was also British geography work looking at what makes up Britain and where various mountain ranges and rivers are located. Year 6 had a British geography quiz. One class looked at the Union flag and then used the idea of Pop Art to create their own British Pop Art pictures.
The Queen writes back!
We were delighted to receive a letter from the Queen thanking us for our birthday cards.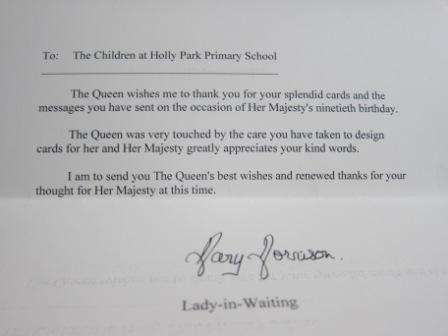 Celebrating the Queen's birthday
In May we celebrated the Queen's 90th birthday. The children had already sent Her Majesty birthday cards and we had a day dressed as Kings and Queens and had a street party – every class did Maypole dancing and we ate our lunch in the playground. It was a lovely day to remember!
St George's Day – 
Project Britain Day
In April – as close to St George's Day as possible – we had our second Project Britain Day. For half of the day the children learnt about the story of St George and the dragon and did literacy work based around the story.
For the second half of the day, the children explored one of the British Values. Children learnt about the make up of Great Britain and all it's names, children researched about Buckingham Palace, they played cricket, painted pictures of dragons and wrote descriptive pieces about the dragons. For homework the children explored an aspect of 'Rule of Law'
The children came dressed in red, white and blue and we had a magnificent and very animated and expressive story teller in to tell the story of George and the Dragon to Years 1, 2, 3 & 4.
For school lunch Adam cooked fish and chips and a sponge topped with white icing and red sprinkles.
Promoting British Values at Holly Park
Here are Examples of British Values and the Curriculum at Holly Park
Frequently Asked Questions
Will my child still be able to express his/her faith at school?
Absolutely. One of the fundamental values is respect and tolerance of people of other faiths. British law protects their freedom to hold their own belief. Any prejudice or discrimination towards pupils on the basis of faith goes against British values.
How will British values affect my child in lessons?
The curriculum provides lots of opportunities to look at British values. Children will have had experience of this through RE and  PSHE lessons. In each subject, teachers look for opportunities to think about how values link to what is being studied.
Will there be major changes to the school's ethos?
The school ethos includes aspects of British values. For example we expect children to follow school rules and be kind to each other. British values reinforce, not change or current ethos.
Project Britain
In the summer term we held 'Project Britain Day' The day was inspired by watching Paddington the Movie – we saw Paddington move from Darkest Peru to London. Children came to school dressed in red, white and blue and made a donation to our local charity.
During the day they learnt about various aspects of London and Britain.
Children researched about:
key events in British history,

famous London buildings,

British sports,

British transport,

British food,

multi-cultural Britain,

British symbols,

key festivals and celebrations,

the royal family,

The River Thames,

The London underground,

British weather etc
The work produced will be put on display in our central areas.
Our Project Britain Displays
After our successful project Britain Day, each class made a fantastic display showing one aspect of British or London life. Paddington Bear appears on them all!
The Department of Education has reinforced the need "to create and enforce a clear and rigorous expectation on all schools to promote the fundamental British values of democracy, the rule of law, individual liberty and mutual respect and tolerance of those with different faiths and beliefs."
The government set out its definition of British values in the 2011 Prevent Strategy, and these values have been reiterated by the Prime Minister.  At Holly Park these values are reinforced regularly and in the following ways:

Democracy
Democracy is evident within the school. Pupils have the opportunity to have their voices heard through our School Council, Eco Council, Learning Council and Healthy Living Council.
They also complete annual Pupil questionnaires. School Council representatives in each class are voted for. Each week in each class one 'Star of the Week' Award winner is nominated and voted for by the pupils.
Our school behaviour policy involves lots of rewards but our marble jar reward system is based on pupils voting as a class group for their treat. As well as having voting opportunities there are also cases when children are selected by merit for special jobs e.g  Learning Council. This is also an important message.
Our Curriculum offers many opportunities to discuss democracy – The Romans, The Ancient Greeks. It allows us to consider events in history where British values have been tested – WW1 & WW2.
Cross curricular literacy work gives children opportunity to give their views, debate and argue, making well considered points and looking at both sides of an argument. A competitive spirit is also encouraged through our House system – e.g every child competes to earn points for their house at sports day. We have House competitions each term.
We have had Y6 children visit the Houses of Parliament for a tour. In 2014 our school council visited the London Assembly rooms. Some of our Y6 children visited The Guardian newspaper and looked at how news stories were put together and the different viewpoints that can be taken.
Pre – election Assembly
At Holly Park we prepared for the forthcoming week by having an assembly which introduced the idea of a General Election and democracy. We talked about how parliament had been dissolved and how now the people had a chance to choose a new government. We talked about voting and how every child at Holly Park had had the opportunity to vote for their school council representative. We likened this to voting for an MP. We talked about the main parties in the election – their name, colour and name of their leader. We discussed ballot papers and the ballot box.

The Rule of Law
The importance of Laws, whether they be those that govern the class, the school, or the country, are consistently reinforced throughout regular school days, as well as when dealing with behaviour and through school assemblies.
Pupils are taught the value and reasons behind laws, that they govern and protect us, the responsibilities that this involves and the consequences when laws are broken. Visits from authorities such as the Police, Fire Brigade and our Y6 Young Citizens day are regular parts of our calendar and help reinforce this message.
The Magna Carta
As part of our work on democracy and in line with the 800th anniversary of the sealing of the Magna Carta (Great charter) Mrs Pelham talked in our whole school assembly this week (15th June) about how and why the Magna Carter came about and how it changed history and led to the Rights and freedoms we have today.
Each class is thinking about what they might include in a modern day 2015 Magna Carta and these will be handed over to Miss Michael who spoke to the children about the audit she is about to do with the children leading to us becoming a Rights Respecting school. More news on this in September.
Individual Liberty
Within school, pupils are actively encouraged to make choices, knowing that they are in a safe and supportive environment. As a school we educate and provide boundaries for young pupils to make choices safety, through the provision of a safe environment. 
Pupils are encouraged to know, understand and exercise their rights and personal freedoms and advise how to exercise these safely, for example through our Anti-Bullying, E-Safety and PSHE lessons.
Whether it be through the choice of level of challenge, of how they record their work, how they record and show their homework, of participation in our numerous extra-curricular clubs and opportunities, pupils are given the freedom to make choices.
Our six Holly Park Learning Skills:
commitment,

reflection,

creativity,

self management,

team work,

enquiry
also help to give the children a sense of liberty and choice as we are helping them to learn 'How' to learn which we hope will help them be prepared for life beyond Holly Park at secondary school and into adult life.

Mutual Respect
Part of our school ethos and behaviour policy has revolved around Core Values such as 'Respect', and pupils have been part of discussions and assemblies related to what this means and how it is shown. This is reiterated through our classroom rules, the High 5, the Holly Park Way as well as our behaviour policy.
Pupils are encouraged to have respect for themselves. We have just signed up to become A Rights Respecting School.
Whole school projects allow us to consider respect for each other in topics such as Black History Month. Our curriculum allows us to consider respect for our world – Rainforests and deforestation.
Each year we take part in anti- bullying week.  Every year we show respect for others by fund raising for one local, one national and one international charity. We have supported events such as – Children in Need, Sports Relief, Save the Children, Red Nose day, Jeans for genes, Cancer charities, Great Ormond Street etc.
Every year we celebrate Harvest and donate goods to Homeless Action in Barnet.

Tolerance of those of Different Faiths and Beliefs
This is achieved through enhancing pupils understanding of their place in a culturally diverse society and by giving them opportunities to experience such diversity.
Assemblies and discussions involving prejudices and prejudice-based bullying have been followed and supported by learning in RE and PSHE.
The school has a high-profile 'Language of the Half Term' that runs throughout the year, linking to languages spoken by our EAL pupils. Members of different faiths or religions are encouraged to share their knowledge to enhance learning within classes and the school.
Every class makes a visit each year to a place of worship linked to their RE topics. We celebrate other religions and faiths through music – singing songs from different festivals and in different languages. Our Candlelight Concert celebrates different festivals of light.

Celebrating Traditions and Values
At Holly Park we like to celebrate the traditions and customs of all of our pupils. We also celebrate British traditions and customs in quite a big way.
Our Year 1 children learn about traditional tales as part of their literacy work. They read lots of British traditional tales. Our infant show in 2013 was a fairytale based around the 'Gingerbread Man'
Our EYFS continue the tradition of learning nursery rhymes and we participate each year in Nursery Rhyme Week. Our KS2 reading challenge has a wealth of books on offer including stories from other cultures but also containing many British classics.
Throughout a school day we encourage orderly systems of lining up and queuing – after break time, when waiting for their lunch. We also try to encourage a  traditional family style  way of eating at lunchtime with packed lunches and dinners sitting together and younger and older children sitting together chatting as they eat.
On a Friday lunchtime children selected by the Mealtime Supervisors for their good manners, politeness and positive eating habits sit and have lunch with the Headteacher on a table covered with a tablecloth and decorated with flowers.