Beech Class: Avalon Mountford 
Cedar Class: Rob Stewkesbury 
Lime Class: Andrew French 
In 2017-18 the teachers in Y6 will be Miss Biggs and Mr Stewkesbury.
Y6 put on a very professional end of year show with Bugsy Malone.
You can see many more pictures here.
As part of our World Book Day celebrations, Year 6 designed their own imaginative creatures.  There were magnificent wings, flailing tentacles and razor-sharp teeth!  The children then used their designs to model their creatures using clay.  In the afternoon they made notes about their animal's features and special abilities and then used these ideas to create some fantastic poems.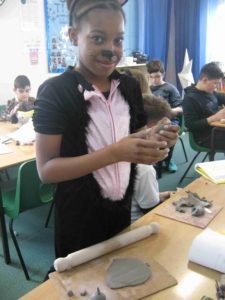 Our Y6 Digital Leaders have been going round the school to find out what the children are doing. Here are their reports:
In Miss Mountford's and Mr French's maths group, they  have been doing Coordinates and in Mr Stewkesbury's maths group have been doing Algebra and number sequences. In English, Year 6 have been writing about a book called The Boy in the Striped Pyjamas. On Thursday, Year 6 took part in an Enabling Enterprise challenge day to make greetings cards. In PE they have been doing activities in a circuit.
In English, Y6 they have been reading 'The Boy in the Striped Pyjamas.'  They then wrote a letter to Karl from Bruno. They also have been drawing the view from Bruno's window. In maths, some children have been doing ratio and proportion, and others are doing how to find the area of triangles and parallelograms. Most of y6 made an animal out of clay, there were loads of animals. We also wrote poems or short stories about our animals.
This week Y6 have been working on their viewer project. This is an example of the last page they have been working of 'The Viewer.' They have also been working on creating their objects that they used for homework, it is linked to the viewer project.
Year 6 had a fantastic time at their Ancient Maya curriculum day.  During the workshop they discovered more about various aspects of Mayan life including religious beliefs, basic diet, calendars, education and decorative arts.   They enjoyed dancing, singing and dressing up in traditional Mayan clothing and even got to have a go at the Mayan ballgame (unlike the Mayans, we decided not to sacrifice the loser after the game!)​
Here is some of the work we have been doing this term.
Year 6 have been learning about Gender Equality. Ethan told us that they were discussing in groups ideas for how to spread gender equality across the world. Katie told us that they watched a video showing the story of Malala and how she tried to do something about gender equality in her own country.
Year 6 also thought about famous people who had made a difference to gender equality – such as Rosa Parkes. They looked at famous female leaders in the world today. They decided that gender equality in our country has got much better over the last 100 years with more female doctors, headteachers, local MPs and even a female prime minister!
Mr Stewkesbury found that the proportion of women to men in top jobs in Barnet is 33:67