Alice Biggs (Maple Class) and Jennie Owen (Juniper Class )
In 2017-18 the teachers in Y5 will be Mr Carini, Mr French and Miss Mountford.
Review of the Year
Well done to all the pupils and staff involved in the Y5 review this week. We all got to see what a very busy year you have had – learning about: Ancient Greeks, Victorians, Space, gymnastics, outdoor PE, as well as three fantastic days away at Gilwell Park. Thank you to Ms Owen, Miss Biggs, Mrs Hurry, Mrs Phillips and Miss McTaggart for making sure it all ran smoothly. We all enjoyed it.
In maths we are learning about angles. To help the child​ren to understand this concept, they have made their own giant protractors and accurately labelled the degrees from 0-180. 
The whole school took part in Enabling Enterprise challenge day!  The children worked in groups to research, design and manufacture a brand new greetings card. They learned about profit (and in some cases, loss!) as well as honing their leadership and problem solving skills. Here are some pictures of Maple Class.
This term year 5 have been learning about the Victorians. A real highlight of the topic was our recent Victorian Day. The children dressed up in Victorian style outfits and enjoyed a variety of activities throughout the day. These included: writing with quills and ink, making greeting cards by quilling coloured card, taking part in drill practice as well as trying a selection of traditional indoor and outdoor games. 
All of the children have loved reading 'Street Child' by Berlie Doherty. Lessons have included lots of fun drama activities, writing persuasive letters about the conditions in the workhouse, writing a sample chapter in the style of the author as well as learning about the origins of the charity Barnardo's.
Our focus in maths this Spring has been fractions, decimals and percentages. This is an exciting time at Holly Park for maths teaching – and we have really enjoyed exploring these concepts with a variety of practical resources. The children have also continued to develop their reasoning and problem solving skills in lessons.
This half term the children have been taught outdoor games by coaches from Non-Stop Action. In these lessons the focus has been fitness; the children have been learning more about stamina, agility, strength as well as the importance of warming up properly.
As part of our English lessons, the children acted out scenes from the focus text: Street Child.
In a recent spelling lesson, the children used dictionaries to create word webs.
We are focusing on gymnastics in indoor PE this half term. In outdoor PE we have worked with Non Stop Action. 
The children made 'follow on' maths games for fractions, decimals and percentages. The children have been using lots of practical resources to help them to understand fractions and percentages. 
In science we have been learning about materials. This lesson was to understand how some materials dissolved in a solvent to form a solution.
In spring 1 our art topic was sewing! The children learned how to use running stitch and cross stitch. In the final lesson they used a variety of materials to create small cushions.
Our Y6 Digital Leaders have been going round the school to find out what the children are doing. Here are their reports:
For their Learning Project, Year 5 were learning about space and planets. In maths they have been learning about decimals and fractions. In PE they have been doing tag rugby and fitness. In RE, they have been looking at the life of a monk. They also have a great new display about the highwayman.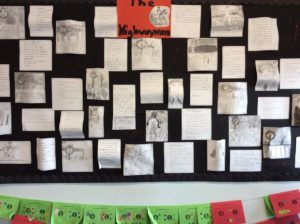 This week year 5 have been practising stitching and in maths they have been working on percentages. In PE they have a Nonstop action coach who does PE with them. In English year 5 have been writing their own version of Street Child.
This week in PSHE they have been learning about helpful and harmful drugs and smoking. Also in maths they have been learning how to add fractions and decimals.In English they have been writing a persuasive letter about street children and in art that have been sewing. They have been learning about dissolving and evaporating in science. In P.E. they have been doing netball.
Year 5 have been working on improper fractions and mixed numbers. In English they have been working on a book called Street Child then they were writing from a child's point of view. In science they worked on dissolving different materials. Also, in art, they have been doing some sewing.
This term Year 5 had a fantastic time learning about Ancient Greece. In November we had great fun on our curriculum day. The children dressed up as Ancient Greeks and enjoyed tasting Greek food. During the day, the children learned about Archimedes Principle and had a competition to float a boat containing marbles. They also made Greek theatre masks. 
A real highlight was our trip to the British Museum in December. It was very exciting to see the original Greek pots, some of which are over 2000 years old. The children enjoyed using iPads to explore the Parthenon Gallery by playing an interactive game.
Here is some of the work we have been doing this term.
Enabling Enterprise
The Y5 Navigators attended a trip at UBS Bank that was run by Enabling Enterprise. The children worked in teams for a client, investing money in a fast-paced trading challenge.
Y5 Maths parent workshop
MsOwen ran an excellent parent workshop for parents and children about maths. The children and parents worked together on fun problem solving activities. At the end of the session, the parents stayed to hear more about approaches to the new curriculum and how they could support their children at home.
In Year 5 the children thought about gender equality. Zoe and Tarlan said that they were also concerned about mental health  and how we shouldn't give up on people with mental health problems.
They also said that humans can make a difference to help the earth and be more green. Calum and Dayna found out that 48% of the world population are men and 52% are women. They said that gender equality was not always about fighting for the rights of women, it was also about men too and avoiding stereotypes. They explained that Paul Hollywood had done a lot on the 'Great British Bake off' to show that men can bake too!