¡Hola amigos y amigas!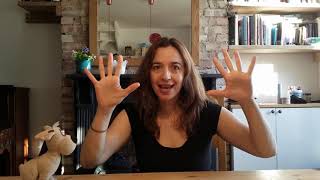 New lessons appear at the top of the list:
Macedonia de frutas- Fruit salad – Learn how to name some fruits in Spanish and how to cook a delicious fruit salad , "Macedonia de frutas" step by step "paso a paso." Listen to "El baile de la fruta"   for inspiration. Disfruta! Enjoy!
Ms Echanove reads Little Red Hen in Spanish and English: Little Red Hen 
Learn how to say and clap the Easter "Cho-co-la-te" song and how to say chocolate in Spanish.
We want to make sure children around the world can keep practicing Spanish from home while schools are closed. There are free online classes at 5pm on Tuesdays, Wednesdays and Saturdays on https://rockalingua.com/ Classes will be about 30 minutes long so don't be late!
Watch these videos at least 3 times each before the class El invierno (Timbo and friends), La primavera, Beginning of class routine, days of the week and ¿Qué tiempo hace hoy?
There are more free resources here:
Duolingo: https://www.duolingo.com
At Holly Park we learn Spanish as our Modern Foreign Language. Mrs Echanove is our Spanish teacher.
It is only compulsory to learn a modern foreign language in KS2 but at Holly Park we learn Spanish from Reception to Year 6. Each class has half an hour of spanish a week.
Spanish at primary school is very much about having the confidence to speak and build vocabulary. The children listen to stories, sing songs, play games and do role play. In KS2 they do write in Spanish and learn more about the grammar.
Some of our KS2 classes have made a link with a Spanish school. They have written letters and have also had video links with them.
Our Curriculum Intention for Spanish at Holly Park is:
At Holly Park we believe learning a new language promotes not only student´s curiosity about other cultures and identities but also about their own. Understanding and respecting other cultures is a key part of a multicultural school such as Holly Park. Our Spanish curriculum promotes fun and interactive learning. Students begin learning Spanish from day one through stories, rhymes, songs, games and role-plays.
We aim to build communication and literacy skills that will help our students to better understand their own language as well as gaining the basic linguistic knowledge to fully progress learning a foreign language towards KS3.
At Holly Park we have developed links with a Spanish school based in Santander, Spain, where the children improve language skills and develop confidence through writing to each other and communicating through technology, i.e. skype.  These help students to put what they learn into context which motivates them further.
'You live a new life for every language you speak. If you only know one language, you only live once.' Czech proverb