The teachers in Year 1 are Sharon Casey (Pine) and Sidra Mir (Chestnut) – in 2017-18 the the teachers in Y1 will remain the same)
Here you will find what the children in Y1 will be learning this year: Year One 2016-17 
This is what the children in Y1 will be learning in the Summer term
Here is what the children in Y1 will be learning in the Spring term
Here you will find out what children in Y1 will be learning in the Autumn term
Year One have been learning about Traditional Tales.  We have read several traditional tales and looked at alternative versions.  We have hot seated the main characters and role played the tales too. We have enjoyed changing the endings of the stories as well as settings and characters.  At the end we had a traditional tale dress up day where we came dressed as our favourite characters.  The children had a fashion show and described their characters.  After we made picnic food and ate our picnic in the sunshine.
You can see pictures from the infant show here.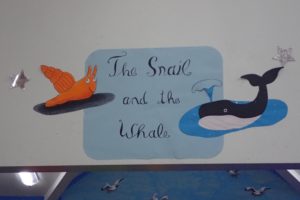 Our Y6 Digital Leaders have been reporting on what the children are doing each week. Here is their report:
They have been doing traditional stories about Triton the Greek hero.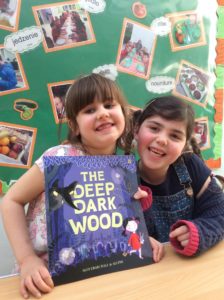 Maths – Chestnut were doing halving in quarters and they were also focusing on days and months of the year.
English – They also were reading a book called The Deep Dark Wood and writing their own versions
This week in ICT Y1 have been playing games on the interactive whiteboard. They are games that help them to understand more, like maths or English games. In maths, they have been learning how to add and take away. They have been practising for the infant show, 'The Snail and the Whale'. In English, they have been writing their own version of 'The Naughty Bus'and illustrated it.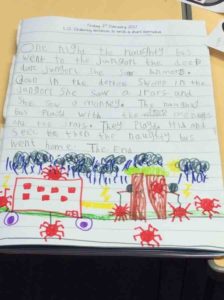 Year One had a fantastic time dressed as pirates for their curriculum day. They enjoyed a range of activities linked to their pirate learning project. First they had a fashion show showing off their costumes and their pirate poses and phrases. Then they received a letter giving them the first clue of the treasure hunt. They followed a series of clues around the school that finally led them to Mrs Hassan's office where they found a treasure chest full of chocolate gold coins! They spent the afternoon making treasure map pizzas and finished the day with tattoos. The children did some excellent writing about their pirate day in their English books.
We have been very busy this term. See what we have been up to.
This attachment will show you the Holly Park End of Year 1 Expectations.
Y1 Expectations
Mrs Fitzpatrick ran a meeting (which was very well attended) to explain to parents about the Y1 curriculum and what the children were expected to achieve in maths and English by the end of the year.