Our teachers are: Lewis Turner and Emma Fitzpatrick. In 2017-18 the teachers in Y2 will remain the same.
Well done Y2 for raising £243 from your cake sale!
Year Two children have been learning about the rainforest. Everyone is looking forward to our trip to Kew Gardens, but in the meantime we have been researching about rainforest animals from non-fiction books that we borrowed from the School Library Service.
The children have written some excellent poems which helped to develop their vocabulary which they are now using to write information texts. The children have made their own mini greenhouse with a plastic bottle and they are learning about the best conditions for their broad bean to grow.  They have been looking carefully at plants and doing some close observational drawings of them, taking note of the different parts of the plants and thinking about the uses of each part. They have also loved exploring artefacts from the rainforest including looking at actual seeds from different plants.
As part of our PSHE learning, and linking in with the whole school value of responsibility, we have been thinking about ways to behave responsibly towards the environment with ideas such as switching off lights, using both sides of a piece of paper and turning off taps when they are not in use.
You can see pictures from the infant show here.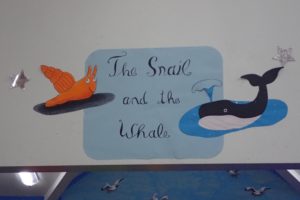 Our Y6 Digital Leaders have been reporting on what the children are doing in school. Here is their latest report:
Yr2 have been learning how to divide by using counters. They have been working on their show The Snail and the Whale by Julia Donaldson.They also made their own version on The Snail and the Whale.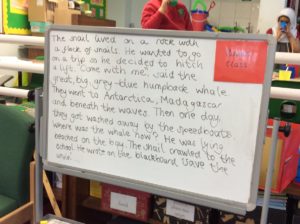 Year Two have had a busy term learning about Heroes and Villains, with work including comic making, story writing and starting to learn their two, five and ten times tables! The children were also entrepreneurs during our Enabling Enterprise Café Challenge. In groups, the children created their own themes including the Minecraft Café, The Pokemon Café, The Superhero Café and many that were Christmas themed.
They used three main skills; teamwork, staying positive and problem solving. The children produced menus, tablecloths, signs and decorations which really enhanced the café vibe. The food that they made looked delicious… a choice of sandwiches, iced biscuits and popcorn. Each class took £60 and made £45 profit each. The children will be able to choose how this is spent in their classrooms.
Here is some of our work from this term.
Maths workshop
Year 2 parents came in for a maths workshop to find out how to help their children learn.
World's largest Lesson
Year 2 have been learning about climate change and renewable energy. Wilf and Cecilia said that the world is getting hotter  and the energy is being wasted and ruining the atmosphere. They said that they had learnt that in some parts of the world that poo can be used to make compost and that this is a renewable energy. They learnt a song to go with it.