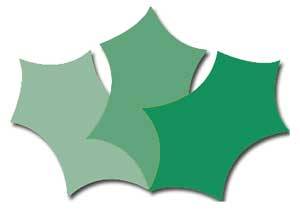 Here is a guide for parents entitled Understanding Progress in English:
Understanding Progress – English
And here is a short guide to what children should be able to do at each level:
National Curriculum Descriptors for English
Here is a useful guide for parents. It gives the spelling requirements from the National Curriculum and lists of spellings.
These are the spelling lists for each year group:
​​At Holly Park we use the No Nonsense Spelling Programme from Year 2 to Year 6. The programme focuses on spelling conventions, patterns and rules and the teachers are able to adapt their lessons to teach spelling in a creative and memorable way.  As everyone has different styles of learning, these sessions also help to give the children a range of strategies to practise and memorise new spellings. 
We use a range of approaches to teaching spelling such as:
Sounding words out: breaking the word down into phonemes (e.g. c-a-t, sh-e-ll)
Dividing the word into syllables and saying each syllable as they write the word (e.g. re-mem-ber).
Using the 'Look, Say, Cover, Write, Check' strategy: look at the word and say it out aloud, then cover it, write it and check to see if it is correct. If not, highlight or underline the incorrect part and repeat the process.
Using mnemonics to help memorise tricky words (e.g. because- big elephants can't always use small exits).
Finding words within words (e.g. rat in separate);
Finding spelling patterns (e.g: should/ could/ would) or rules (eg: dropping the e on a root word when adding ing- move – moving).
Finding exceptions to spelling rules (i before e except after c- an exception is weigh)
Making links between the meaning of words and their spelling (e.g. sign, signal, signature).
Encouraging your child to have a go at spelling words they are unsure of. This will give them the opportunity to try out some of the different spelling strategies that they have been taught during lessons.
You can help to support your child with spelling at home​ by using the approaches above.
Poetry Day
This is the children meeting poet Neal Zetter at a workshop for National Poetry Day.  He performed some of his poems and the children created their own poems based on the theme of freedom.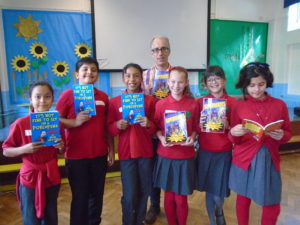 Inspiring children to write
Both KS1 and KS2 had separate presentations from a Barnet based author – Antony Lishak. Antony is the Author of – Coming Round, Clickety Clack, The Ten Pound Note, Henry's Boots and several other children's books.
Antony did a very animated performance of his book – Clickety Clack with KS1. All of the children were involved with the telling of the story – joining in with actions, sound effects, repeated phrases and using the props to fit in the suitcase. After the presentation he set the children a writing activity to pack their own suitcases using number sequencing as in his book. The Y2 children were encouraged to use alliteration in their work.
For KS2 Antony told the children about how he got the ideas for several of his books and how he used his real life experiences and then added his imagination but kept the storylines believable. Finally he told them a story about how he damaged his mother's asparagus bush but his brother got the blame.
He set the children the task of writing a story about a time when they did something but someone else got the blame. Antony then worked with Y4 in the classroom. All the children set about this task and will have time to finish their stories. Antony gave several  signed copies of one of his books as prizes for the best story in each year group. We look forward to seeing the finished results.
At the end of the day, Antony ran a training session for staff about inspiring children to write.