Christmas
fun word search
If you have some time to spare over the Christmas holidays you could try our word search. But beware – it's not easy! 
You have to click on the link and then print it out – it should print onto one page. You might need some help by looking at our website for the answers – there are up to 60 words.
Here it is: HOLLY PARK WORD SEARCH
And here's one for the infants: Infant wordsearch
Fun Fundraising Competition
Over the half term holiday we had a fun fundraising activity which was suggested by a parent. We gave out a bottle to every Holly Park family to fill your small change. Our team of coin counters  spent two whole mornings counting the change that children collected in bottles and an amazing £1343.46 has been raised for the school. Six classes (Mulberry, Cedar, Sycamore, Rowan, Elm and Hazel) raised more than £100 and the winner was Mulberry with a huge total of £194.77.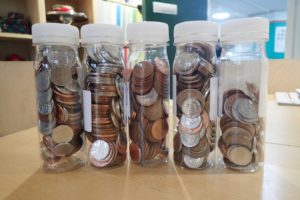 A Book in a Box
Put together a book in a box. Take a shoe box, jar or other box and put in it lots of objects, pictures, speech bubbles etc about the story. E.g A book box of Cinderella could contain a crown, a silver slipper, a wand, a pumpkin, a picture of a mouse, a doll's beautiful dress and an invitation. Entries have closed and the winner will get a £5 voucher to spend at the book fair.
Look at some of our amazing entries:
Design a Healthy Packed Lunch Competition
At Holly Park we are trying to be more healthy and have been teaching the children about the importance of exercise, drinking water and making the right food choices.  
Here are some of the entries we had for the Healthy Packed Lunch competition:
Summer challenge 2016
Over the summer holidays the children were asked to take part in the summer challenge. They had a variety of tasks to complete such as: visit a museum, build a tower of 1p coins, eat a new food, pick up rubbish, grow a plant from seed, follow a recipe and bake something, learn to juggle etc.
Well done to everyone who took part, we had lots of challenges returned to school and many beautifully presented in posters and books.